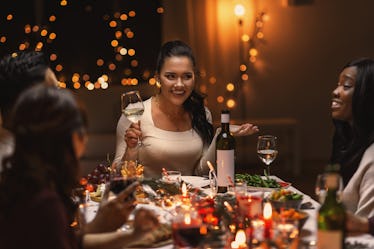 5 Moments That Every Single Person Experiences Over The Holidays
"So... when are you gonna get married?"
Syda Productions/Shutterstock
It's beginning to look a lot like the holidays! And that means It's time for everyone's favorite game show: How long will your nosy relatives hold off before asking you if you've "met someone yet?"
Being single gets a bad reputation, especially around the holidays, and TBH, it's kind of easy to see why. In today's day and age, when so many things — including relationships — have changed, finding love in a hopeless place suddenly seems, well, hopeless. Online swipe culture and surface-level interactions can sometimes feel like they're ruining all of the fun of actually dating. In fact, a recent survey of Plenty of Fish members found that over one-third say online dating can feel lonely.
But don't fret this year when your meddlesome aunt inevitably inquires, "How are you still single?" The truth is, being single doesn't mean not forming meaningful connections. Plenty of Fish members indicated that a whopping 50 percent of them have used dating apps and social media to make friends and build non-romantic relationships, with 43 percent wishing online dating offered a sense of community. Whether it's recapping about an awkward first date or sharing the salacious details of a recent hookup, one thing's for sure: When it comes to wading around in the dating pool, there's strength in numbers.
To that end, Plenty of Fish is revolutionizing the way singles look at online dating just in time for the holidays. What used to be just a dating app has transformed into a full-blown singles community where you can meet other singles who are on the same journey to finding dates, making the overall experience more fun.
In the spirit of #BeSingleNotSolo, here are five all-too-real moments every uncoupled person will experience over the holidays. Pour yourself a festive cocktail and gear up for these moments that — trust us — you'll laugh about with your single friends later.
1. The Yearly Hometown Hookup
79 percent of singles on Plenty of Fish say most of their friends are in relationships (cuffing season, anyone?), so having a hometown hook-up around the holidays may seem extra appealing. You know the type — everyone has that one person they hit up when they're home. The person you literally do not think of any other time of the year until you step foot into your childhood bedroom, faced with a choice between sitting around and drinking eggnog with your family as they bombard you with questions about your 5-year plan… or borrowing your parents' car and spending an hour reconnecting IRL with someone from high school. The choice is clear. Family: 0; Ol' Faithful: 1.
2. The Awkward Meet-And-Greet With Couples At The Company Holiday Party
Remember when you were a kid and thought your first grade teacher lived inside the school? This is kind of like that, except your boss doesn't actually live in your office (though they may send you emails at all hours). Apparently, your coworkers have full lives outside of your shared sea of cubicles (and virtual backgrounds), and sometimes spouses?! You + your boss + their partner + warm white wine out of a plastic cup = a weirdly mind-opening — yet mostly unwanted — holiday party experience.
3. Getting Asked If You're Shopping For "Someone Special"
"Yes, myself! Thanks."
Sometimes you just want to buy a luxe throw blanket, a festive set of mugs, or a box of high-end hot cocoa bombs without being asked if there's an SO in the picture. It's nice to spoil yourself when you see things you like, but nothing can break that self-love spell quicker than a prying salesperson who assumes you simply must be partnered.
4. Scrambling To Find A Kiss When The Ball Drops
Honestly, spending New Year's Eve with your eyes flitting to the front door every so often to see who has just arrived is not my ideal way to experience the night. Neither is having to avoid the only other single person at the party who all your friends tried (and failed) to set you up with.
With 47 percent of singles saying it's hard to date when their friends aren't single, NYE can start to feel more fearful than festive. Instead of a mad dash to find someone to kiss before the ball drops, don't sleep on smooching your friends. Platonic love is just as fulfilling as romantic love! And hey, 66 percent of singles on Plenty of Fish prefer to date someone they consider a friend first, so you never know where a New Year's Eve kiss could lead!
5. Being Included In Someone's Engagement Against Your Will
This is not really an if it happens to you scenario, but more of a when. Something about the holidays just makes people want to get down on one knee. As soon as the temperatures start to drop, I swear my feed fills up with posts of hand after hand featuring freshly done fingernails and big, fat, sparkly diamonds. Whether it's your cousin, your coworker, or the complete stranger whose now-fiancé arranged a flash mob proposal when you're just trying to eat your spinach artichoke dip in peace, it's only a matter of time before you become an unwilling participant in someone's special day.
Stressed about navigating the holiday season solo? Don't fret — pour yourself some mulled wine and visit Plenty of Fish's Self-Elf Helpline for real-time support as you prepare for single survival mode this holiday season.