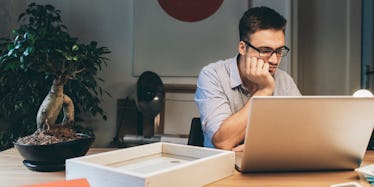 4 Ways Having A Casual Relationship Will Prep You For The Real Thing
Stocksy
In this so-called hook-up generation, people have mastered the ins and outs of casual relationships.
Along with the perfunctory protocol (sexting, f*ck buddies, BYOBirth control, etc.) came the belief that casual relationships are nothing but a way to demean romance and demote sex to an unimportant, apathetic pastime.
But, while you're in a casual relationship, why not make the most of it and not just "benefit" from it?
Take part in it in a way that you'll also be able to learn significantly more about yourself and what you need, while, ahem, mastering what a casual relationship mainly offers: sex.
After all, casual relationships allow people to let go of their inhibitions with someone who's on the same page.
They allow you to focus on finding, giving and nurturing the traits and values essential to romantic relationships. Here's how:
Hooking up allows you to identify your basic needs and preferences in sex
Are you pro or anti-Bush? Nope, I'm not talking about the ex-POTUS.
Rather, do you prefer your partner shaved, trimmed or gloriously bushy down under? Do you like bishops in a turtleneck? What physical attributes do it for you, and which are deal breakers?
What if, when finally you decide to do the deed with a guy you've been seeing for a while, you realize once you take your clothes off, seeing his bishop in a full bush is a big turn-off?
You could have spared each other's time and feelings if you were in-tune with what you like (at least from trying it out with casual partners), and how to bring it up in the beginning.
Preferences aside, let's talk about needs: What makes you orgasm? I've known a few women who haven't even experienced an orgasm yet, but have been in relationships for years.
Sexual chemistry is one of the basic criteria in ANY intimate relationship — casual or romantic. How can you say you're sexually compatible if you've never had an orgasm?
What makes you orgasm is a need-to-know detail not just in relationships, but also within your self-identity.
And, being able to have sex without thinking about anything other than, well, sex, helps you clear your mind and go straight for the kill.
Hooking up lets you explore your curiosities and sample a multitude of ideas
If you told me you haven't imagined sampling many of the positions of the Kama Sutra, I'd say you're lying.
One of the main things that makes sex so damn fun is getting to try out new positions AND locations. The only way to know what you want and how you want it is by experiencing it.
That said, you just can't get into a romantic relationship and do a practice run of every good and bad idea you can think of, in consideration of your partner's feelings. After all, romantic relationships are about more than just sex.
Try out new things with a casual partner, and identify what strikes you best.
When you eventually have a romantic relationship, you'll save time skipping the lame ideas by going right for the amazing ones. Level = Sexpert.
Hooking up makes you appreciate the acts only a romantic relationship provides
Little acts, such as holding hands and cuddling, are almost never appreciated when you're in a romantic relationship. They're just habits you don't think too much of, up until you take part in a casual relationship.
Hookups end as quickly as they start, and cuddling is replaced with a quick jump in the shower.
Especially when it comes to bigger things, like needing someone to talk to when sh*t happens in your life, a boyfriend or girlfriend will be there to talk you through it.
On the contrary, a hook-up buddy would convince you how sex would make your worries go away. Period days? You'll miss having a guy stick around even if he couldn't get any for a week. A f*ck buddy just won't. Period (pun intended).
You will appreciate that being in a romantic relationship is more than just having someone to call a boyfriend or girlfriend.
It has more to do with having a sense of "home" and being with someone who will hold your hand, physically and emotionally.
Suddenly, the idea of staying in the entire weekend on a Netflix marathon with your boyfriend or girlfriend sounds way more appealing than having to do a walk of shame after your friend with benefits is done with you.
Hooking up makes you appreciate the concept of security in a romantic relationship
It doesn't take much to be in a casual relationship. Just find somebody who's hot enough, DTF and bam, that's it.
That's where the difference lies between casual and romantic relationships: the priorities, the endgame and the risks.
Romantic relationships cultivate not only the sexual chemistry, but also the emotional and mental needs.
Hooking up is all fun and games until one day, you wake up realizing you want more than your partner is willing to give.
Most people get into romantic relationships not knowing what they want to begin with.
They end up spending most of their time figuring themselves out, rather than focusing on cultivating the relationship. That is such a waste, especially when it so happens you're seeing someone amazing.
Relationships involve two people, not just one. So, after getting familiar with the possible risks, let yourself go and explore.
Figure out what you want and what you need by trying it out with a casual partner and make sure to learn from it. When the right person comes along, no time or feelings will be wasted.