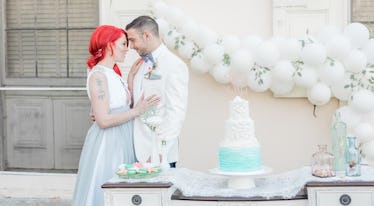 12 Stunning Photos Of Disney-Inspired Weddings For Your Happily Ever After
Sure, Disney movies might give us a mildly inflated understanding of what true love really looks like, but when you find your ~one~, it really can feel like you've found your happily ever after. This is probably why it seems like so many people flock to Disney every year. When you're passionate about the magic the Disney-verse creates, it makes sense to want to make it part of your life. And what better way to do just that than with a Disney-inspired wedding? These stunning photos of Disney-inspired weddings are so incredibly cute, you'll want to book Cinderella's Castle for your special day ASAP.
Most Disney movies feature bold, beautiful colors throughout, impressive costumes, and gorgeous settings — all of which can factor in and make for some pretty spectacular weddings IRL. From Beauty and the Best to Princess and the Frog to Robin Hood, there are so many storyline aspects you can include on your special day. You can reserve the Disney touches for table decorations; you can order a Disney-inspired wedding dress and embrace your inner princess; you can transform your reception hall into a whole new world of imagination — the possibilities for Disney-inspired weddings are endless.
If you're a sucker for Disney romance, you're definitely not alone. Brides from all over the country (and even Russia) are right there with you. If the idea of a Disney-inspired wedding has crossed your mind, or you simply want to appreciate the beauty of it all, read on.