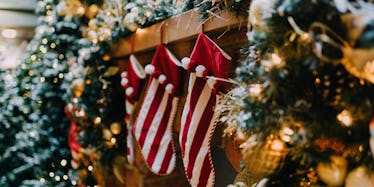 10 Ways To Get On The 'Naughty List' With Your SO This Holiday
There was certainly a time when you did all you could to get on the nice list. It was the only way you'd get the Polly Pocket mansion you'd be dreaming about or the that Bop It.
Seriously, how are you ever going to beat your neighbor at Bop It, if you don't have your own to practice on? But times have changed, and naughty is the new nice.
The holiday season is a fabulous time to get naughty and there are so many ways to do it. Wave goodbye to the nice list, because after this, you'll be banned.
1. Stocking stuffers
You can't get past it; this time of year is largely based on gifts. While sex toys are awesome presents, they can be pretty expensive. However, stocking stuffers are not, and there are so many great intimate items you can use as stocking stuffers.
From blindfolds to feather ticklers to massage oils or candles, to lubricants to handcuffs! All of these items will fit perfectly in a stocking, and will make for one very exciting holiday season.
Worst case scenario, your partner doesn't like their stocking stuffer and you pull it off as a gag gift. Best case scenario? Mind. Blowing. Orgasms.
2. Lingerie
It's my favorite time of year to dress like a ho-ho-hoe.
Not only is holiday lingerie really easy to find, it's a fun way to make things more exciting. It will easily be your partner's favorite gift.
And if you really want to take it up a notch, slip on your lingerie and try a holiday role play. You can make your partner really beg to touch your "gift" or make them tell you what is on their naughty list.
Once you get those juicy details, you can apply them in the bedroom.
3. Sexy settings
Nothing sets the mood like a sexy setting. Sometimes that's Miguel Pandora and candles you got on the clearance rack, but is doesn't have to be during this time of year.
There are so many sexy places to get it on during the holidays: under the tree, in front of the fireplace, on the counter while the Christmas cookies are in the oven, in front of a window where you can see the snowfall and light displays or even in the bedroom, before your family arrives for Christmas dinner.
(Warning: Make sure this is a quickie or things could be really awkward when Aunt Lisa arrives 10 minutes early.)
4. Bust a Christmas move.
Put on your favorite Christmas music and give your partner a sexy lap dance or try some new positions.
5. DIY naughty
It can be intimidating (and expensive) to be naughty. Put the ball in your partner's court and save some money by making a coupon book.
Examples of coupons could be "I will try a new position of your choosing,"; "I will act out your greatest fantasy" or "I'll watch your favorite porn with you."
Not only is this gift much more fun than anything else your partner has ever received, it's also going to teach you a lot about what turns them on -- and that's the gift that keeps on giving!
6. Drinking games
Everyone likes to engage in a little Christmas cheer this time of year. Why not turn one of those Christmas drinking games into something sexy?
I'm a big fan of the "Elf" drinking game. Follow the rules, but instead of taking a drink each time Buddy the Elf does one of the things listed, ask your partner a sexy truth or dare questions.
If you're having trouble getting started here are some examples. Truth: What is your favorite thing to do in bed with me? What is your greatest fantasy? What is something you wish we'd do more during sex?
Dare: Show me your favorite spot to kiss me, pass an ice cube back and forth while kissing until it melts, give a massage while telling me what you love about each part of my body you touch.
You can always encourage your partner to prepare some questions ahead of time, so neither of you feel on the spot during the game.  Plus, thinking of questions ahead of time will build up so much sexual tension you'll both be bound to rip each other's clothes off half way into the game!
7. All the food
Well yes, there's definitely a chance all the food this season is going to make you feel bloated and totally unsexy, but it doesn't have to.
Can you imagine how hot it would be to have your partner watch you suck on a candy cane?
Taking a few sips of some hot chocolate before going down on your partner is guaranteed to make them feel amazing. And feeding each other something delicious can be very intimate, so break down that gingerbread house and get to it.
8. Time off from work
Most of us will get some time off of work during the Christmas season. You'll be feeling more relaxed and have more time on your hands.
Put that to use by doing something intimate with your partner, whether it's trying something new together or cuddling during a movie, intimacy is key to a successful sex life.
9. Mistletoe
Kissing is completely underrated, and some couples don't do it enough. I'm not sure why we lose that aspect of our relationships.
Remember when you first started dating your partner? You couldn't keep your tongues out of each other's mouths! The mistletoe helps us bring kissing back. Mistletoe is a nice reminder to give your partner a smooch.
Maybe it'll turn in to more, maybe it won't – but either way, you're doing yourself a favor. Kissing has so many benefits for our health, including boosting our self-esteem, washing away the pain from headaches or cramps, and reducing our blood pressure.
10. Time to give
The holiday season is a time of giving. Many of us are feeling warm, happy and ready to do for others to let them know how much we care about them.
So this is a perfect time to kindly remind your partner of that thing you really like in bed, that they haven't done in a while. Beware, they may ask for something in return that you haven't done in a while. But, a nice compromise that ends in heavy breathing and a few moans, is what the season is all about.
Happy holidays and a very sexy new year to you all!
See you in 2017!