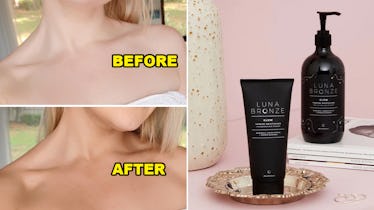 This Wildly Popular Self-Tanner Is The Key To A Natural Looking Glow
Meet Luna Bronze, one of Australia's most popular self-tanning brands.
We may receive a portion of sales if you purchase a product through a link in this article.
If you're dedicated to your daily SPF, you're probably not about to pop into a tanning bed or spend the day baking under the sun. But as the weather warms up and the coats get pushed to the back of your closet (and the bare legs come out), you may find yourself wishing for a bit of a tan, which is where self-tanner comes in. The safer solution for achieving your summer glow, self-tanner can involve a lot of trial and error. You need a product that'll make you look bronzed (not orange), that's easy to use, and ideally, that's formulated with good-for-skin ingredients. Luna Bronze ticks all of these boxes with its range of beauty award-winning formulas that prioritize skin health whilst self tanning.
Focused on educating consumers about the negative effects of sun exposure while providing them with a sun-free solution for tanning, the brand uses organic ingredients whenever possible and is PETA-certified cruelty-free and vegan. From classic tanning mousses and lotions to an overnight bronzing serum that also hydrates and brightens, learn more about the female-founded self-tanning brand that's loved by celebrities like Hilary Duff and Ashlee Simpson-Ross.
Meet The Best-Selling Products
Not sure where to start? Here are some of the best-selling products from the brand:
Luna Bronze Good Night Face Bronzing Serum
The brand's Good Night Face Bronzing Serum was named the best self-tanner in Bustle's 2022 Beauty Awards for its ability to impart a natural bronze tan as you sleep and immediately leave skin with a dewy glow. Promising to tan your face without clogging your pores, the serum contains 12% DHA to get the job done, as well as moisturizing ingredients like aloe vera, glycerin, and grape seed extract. Plus, it's formulated with skin-brightening ingredients like desert lime fruit extract and quandong fruit extract, which are naturally rich in vitamin C and native to Australia. You can apply a few drops of this serum on its own or mix it in with your favorite moisturizer for a subtler finish. Just don't forget to wash your hands right after to eliminate the risk of being left with stained palms and fingers (as is always the case with any type of self-tanning product).
Luna Bronze Total Eclipse Tanning Mousse
A tanning mousse is my personal preferred formula for tanning my body because it's easy to ensure even coverage (especially when using a tinted formula that gives you a guide color to work with). Luna Bronze's Total Eclipse Tanning Mousse is a beauty award winner that includes the usual DHA for color. But it stands out from other tanning mousses because it's also formulated with moisturizing and brightening ingredients like aloe vera, grape seed extract, jojoba seed oil, and kakadu plum extract to keep skin nourished. Your color will develop in one to eight hours, giving you a deeper tan the longer you let the formula sit on your skin before rinsing. And if the smell of self-tanner has kept you away from at-home tanning in the past, Luna Bronze uses a blend of lemon myrtle, orange blossom, and mandarin essential oils to mask the tanning scent without the addition of synthetic fragrance.
All of the usual self-tanning rules apply, including starting with skin that's cleansed and exfoliated, applying lotion to the feet, ankles, knees, and elbows, and using a tanning mitt to apply your self-tanner so that you can avoid stained palms. It's available in light/medium and dark shades if you prefer a formula with a guide color, or a clear option that requires a bit more expertise to apply but won't stain your sheets.
Luna Bronze Glow Gradual Tanning Moisturizer
For those who aren't about to add an extra step to their skin care routine, try replacing your usual body lotion with this Luna Bronze Glow Gradual Tanning Moisturizer. The formula has an aloe vera base for maximum hydration, but it also includes skin-softening botanicals like coconut oil, glycerin, and jojoba seed oil. Like the mousse formula, the moisturizer uses a mix of citrus-scented essential oils to mask the usual fake tan smell. However, the products differ in their application method, as you'll want to apply this moisturizer with your hands (making sure you wash your hands immediately after). The tan level will also differ here, as you won't get the same deep tan that you would with the mousse. On its own, the gradual tan moisturizer will leave you with a softer tan after several days of continued use, but it's also great for using daily to mantain your darker mousse tan.
Self Tanning Kit
If you're a self-tan devotee, Luna Bronze has all of your tanning bases covered with its Self Tanning Kit. Created in partnership with influencer (and longtime Luna Bronze fan) Nicole Zajac, the limited-edition set comes with everything you need to master a head-to-toe glow at home. To tan your face, you'll get the Good Night Face Bronzing Serum, and you can choose from the brand's Clear, Light/Medium, and Dark Tanning Mousse to customize your body tan. You'll also get the brand's Tanning Mitt and Contour Blending Brush, as well as an oversized Luna Bronze T-shirt to wear while you wait for your tan to develop.
About The Brand
Luna Bronze was founded in sunny Australia by high school besties Maddy and Rhi, who spent too much time soaking up the sun's rays. When Maddy was diagnosed with skin cancer in 2014, the duo set about to reform their tanning habits without losing their golden glow. Brand co-founder Maddy is passionate about sharing her own skin cancer experience with Luna Bronze's social media followers, posting about the risks associated with sun exposure and encouraging followers to get their annual skin checks.
Combining skin care with sunless tanning, Maddy and Rhi started Luna Bronze using ingredients like lemon myrtle, desert lime, and orange blossom, which are native to Australia. In addition to creating self-tanners that are foolproof and packed with good-for-skin ingredients, Luna Bronze focuses on reducing excess packaging and being as ethical as possible. The brand also stands out because of its commitment to using plant-derived DHA to deliver that faux glow, as well as other plant-derived and certified-organic ingredients whenever possible.
This article was originally published on