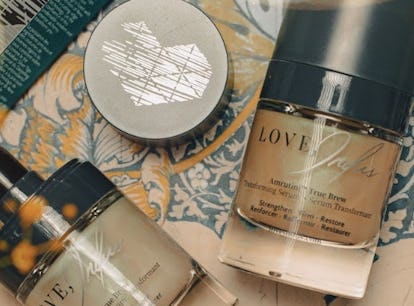 This Ultra-Luxe Serum Is On Sale For Mother's Day — So Go Ahead & Give Mom The Gift Of Glowy Skin
We may receive a portion of sales if you purchase a product through a link in this article.
No one deserves a self-care moment more than mom. And with Mother's Day fast approaching, if you're still looking for gift ideas, consider a luxurious skin care product that she normally wouldn't splurge on herself. Love, Indus blends the latest skin care technologies with traditional ingredients and practices from the Indian sub-continent to create effective products designed to help promote relaxation. The brand's Amrutini True Brew Transforming Serum — which promotes silky-smooth skin immediately and a more even skin tone over time (as well as increased elasticity) — is an easy addition to mom's daily routine. In time for the holiday, learn more about the luxe serum ahead — and save $15 on the $120 serum when you use the code MOM15 on the Love, Indus site.
Because the Amrutini True Brew Transforming Serum combines the industry's buzziest "it" ingredients with those found across the Indian sub-continent, you may already be familiar with some of its hero ingredients. Multi-tasking niacinamide, collagen-stimulating peptides, and moisturizers like glycerin, squalane, and hyaluronic acid help to make this a highly effective serum when it comes to brightening skin, fading unwanted hyperpigmentation, improving elasticity, and restoring hydration.
But what makes the serum so unique is its roots in practices and ingredients native to India and its larger sub-continent. Inspired by an ayurvedic practice called Shata Dhauta Ghrita, which involves soothing skin by washing with ghee (a clarified butter), Love, Indus' serum is formulated with vegan ghee as well as copper for anti-inflammatory benefits. Ashwagandha, another popular Indian herb used in ayurvedic medicine, further helps to reduce skin irritation while strengthening the skin barrier, as do polyphenol-rich Makaibari tea leaves that are found in the Darjeeling Hills. To give the serum a luxurious application, it's formulated with skin-smoothing hydrolyzed Muga silk, which helps to create a silky, yet matte finish on the skin that's great for wearing under makeup. The serum is also infused with tuberose to give it a creamy, floral scent without the use of artificial fragrance.
Perhaps just as important as the ingredients included in the serum are the ingredients that it leaves out. Like all of Love, Indus' products, the Amrutini True Brew Transforming Serum is free from common irritants like artificial colors, artificial fragrances, parabens, phthalates, sulfates, and formaldehyde. The serum is also cruelty-free and made without ingredients and minerals obtained using environmentally destructive practices. Additionally, the serum (and all of the brand's products) has sought dermatologist approval and undergone testing for allergies and sensitive skin. Because of this, the serum is safe for sensitive and acne-prone skin types, and can be used by just about anyone.
Shop The Serum With The Code MOM15 For $15 Off
If you'd like to give your mom the gift of glowy skin this Mother's Day, don't forget to type in the code MOM15 at checkout on the Love, Indus site.