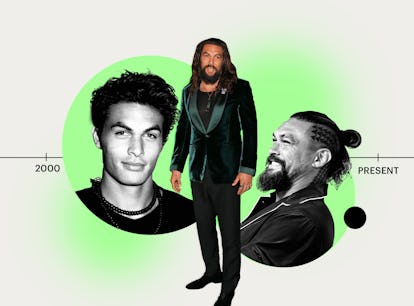 Jason Momoa's Hair Evolution Is An Emotional Roller Coaster Ride
Jahné Spencer/Elite Daily; Getty Images
Most folks know me as "that writer with curly hair." It's the first thing that people notice about me, so I understand the pressure that Jason Momoa is under. The 44-year-old actor plopped himself onto everyone's 'hot guy with long hair' radar as the titular Conan in 2011's Conan The Barbarian and fans have been emotionally invested in his hair ever since. If loin cloth action movies are not among your cinematic preferences — no shade 'cause same — you might have missed his breakout role, but chances are you know his hair. What makes Momoa's hair evolution so fascinating is that, despite having experienced quite a hair evolution since his first feature film role, the actor frequently plays characters that have his signature long hair look.
Beyond his criminally short run as Khal Drogo on Game Of Thrones, Momoa has also had long hair as Arthur Curry aka Aquaman in the Aquaman movies, which he's most known for these days. Trailers for all three seasons of the Apple TV series See have shown me that the primary characteristics of Momoa's character Baba Voss are that he is blind and strong and also has — wait for it — long hair. Bottom line: Momoa and his signature hairstyle are so embedded in most folks' minds that when he cuts his hair short, people notice and, if those people are like me, get upset. Heavy is the head that wears the crown of iconic surfer waves.
Ahead, please enjoy the fruits of my extensive research into Jason Momoa's hair evolution. I'll go to the grave before admitting to anyone how much time I've spent analyzing Momoa's different hairstyles throughout the years, but I can confidently say that I've uncovered every major and minor hair change the actor has undergone in the past 20 years. From short, spiky hair to long, bouncy ringlets, here is every hairstyle Jason Momoa has tried since he hit the big screen. Buckle up, y'all, because despite having "a look," since at least 2011, he keeps trying new hairstyles (and my nerves, TBH).
This article was originally published on