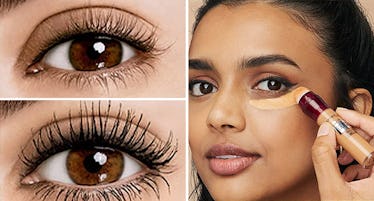 I'm A Beauty Editor & These Are The Cheap Beauty Products That Work As Well As Expensive Ones
Products that are vetted by the pros.
We may receive a portion of sales if you purchase a product through a link in this article.
While there are plenty of cheap beauty products that perform just as impressively as their luxury counterparts, there are just as many cheap products that aren't worth your money. So, how do you sort out the worthy from the unworthy? You consult someone who's devoted their career to interviewing dermatologists, peeking into the kits of makeup artists, and testing out products. I'm a beauty editor, and these are the cheap products that work just as well as the expensive ones.
Ahead, you'll find 40 under-$25 beauty products for every part of your routine: cult-favorite mascaras, hair-smoothing oils, and more. I — as well as thousands of Amazon shoppers and countless other beauty professionals — have tested out these products and can vouch for their quality, effectiveness, and luxurious feel. In other words? You won't regret trying them out for yourself.
This article was originally published on