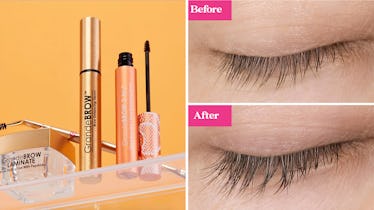 These Cult-Favorite Brow & Lash Products Are (Finally) On Sale
And they're bound to sell out
Grande Cosmetics
We may receive a portion of sales if you purchase a product through a link in this article.
If you're a member of Sephora's Beauty Insider program, you probably already have the Beauty Insider Sale on your calendar. Beginning April 18 (or April 14 if you're a Sephora Rouge or VIB member), the Beauty Insider Sale lets you save anywhere from 10% to 20% depending on your membership level. Both online and in stores, the sale is a great way to stock up on your favorite products — and an even better opportunity to try out something new without paying full price. Among the many brands featured in the sale is Grande Cosmetics and their award-winning brow and lash products. The pro-favorite brand offers a range of brow serums and gels designed to give you fuller eyebrows both immediately and in the long run with clinically proven formulas that are packed with conditioning ingredients. Ahead, get the details on three of the brand's best-selling products, which you can snag for up to 20% off during Sephora's Beauty Insider Sale running from April 14 through April 24.
Grande Cosmetics' entire line of products will be on sale during the Beauty Insider event, but if you're new to the brand and you're wondering where to start, below are two of their top-selling products, plus one new launch that's perfect for nailing the buzzy 'soap brow' trend.
If you're already set on brow products, the brand also makes lash serums, hair products, mascaras, and even a few lip treatments — many of which are beloved by celebs like Hailey Bieber, Hilary Duff, and Brooke Shields.
GrandeBROW Brow Enhancing Serum
Whether you're guilty of previously over-plucking or you're simply looking to boost your already full brows, GrandeBROW Brow Enhancing Serum is Grande Cosmetics' best-selling product for getting the job done. The once-daily serum was designed to enhance sparse, thinning, and over-plucked brows, using a combination of moisturizing ingredients like panthenol, hyaluronic acid, and grape seed extract to condition existing brow hairs. The real key to the serum's success lies in the multiple amino acids in the formula (arginine, isoleucine, glycine, and serine, just to name a few), which are the building blocks of hair and help to strengthen the hair fibers. You can use this serum either in the morning or at night depending on your personal preference, and then scale back to an every-other-day application once you reach your full level of improvement. The serum comes with a four-month supply of product (that's also the length of time you can expect to see full results), but the brand notes that you'll start to see results after six to eight weeks.
GrandeBROW 2-In-1 Tinted Brow Gel + Brow Enhancing Serum
If you prefer a multi-tasking product that lets you immediately bulk up your brows with makeup while helping to treat them over time, there's the GrandeBROW 2-In-1 Tinted Brow Gel + Brow Enhancing Serum. The gel comes in four tinted shades (Light, Medium, Dark, and Auburn), and uses mini fibers to help shape eyebrows and fill in sparse areas with a few strokes of the mini spoolie wand. The gel is smudge-proof and wears for 12 hours, while also providing conditioning benefits with Grande Cosmetics' signature serum. Castor oil, which is dermatologist-approved for helping to promote healthier lashes and brows, is included in the formula, as well as sunflower seed oil, beetroot extract, and vitamin E to further moisturize your brow hairs.
GrandeBROW-LAMINATE Brow Styling Gel
The newest brow enhancer from Grande Cosmetics, GrandeBROW-LAMINATE Brow Styling Gel is a clear formula for anyone who's into a feathered look — and it lets you get in on the soap brow trend without actually using soap. Housed in a mini pot, the gel comes with a dual-sided applicator tool with a spoolie and mini angled brush for setting and shaping your brows. The formula itself is also helpful for keeping brow hairs nourished as you define them, thanks to ingredients like glycerin and a conditioning peptide. Because the gel is clear, it suits every skin tone and brow color, and it gives you 12-hour hold that won't flake off.
Shop More Grande Cosmetics Products On Sale
This article was originally published on