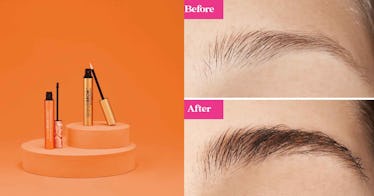 Celebrate National Brow Day With 30% Off These Best-Selling Brow Products
We may receive a portion of sales if you purchase a product through a link in this article.
There's basically a national holiday for everything you could possibly want to celebrate these days (and if it's pancakes that you're particularly passionate about, apparently you get two holidays each year). The beauty industry is getting in on the celebrations, too, with National Brow Day officially taking place this year on October 2 — and Sephora is sweetening the celebrations by offering customers a 30% discount on two of Grande Cosmetics' best-selling brow products.
Both products that are included in Sephora's National Brow Day sale — the GrandeBrow Brow Enhancing Serum and the GrandeBrow 2-In-1 Tinted Brow Gel — are beauty award winners that are beloved by celebs and makeup artists alike. Though they differ in their intended usage, both products were formulated to improve the overall health and appearance of your brows, thanks to a blend of conditioning vitamins, antioxidants, and amino acids. Ahead, you'll find all of the details about the best-selling brow products on sale, and learn more about the science behind each product.
GrandeBrow Brow Enhancing Serum
If you take a less is more approach to your beauty routine, the GrandeBrow Brow Enhancing Serum works to bulk up thinning or sparse brows over time without the use of makeup (or makeup artist-level skills). The clear serum is a dermatologist-tested formula that aims to improve brow growth and fullness by concentrating on the overall health of your brows. The key to the conditioning serum is its blend of amino acids, which include l-proline, arginine, alanine, glycine, and histidine, among others. Because amino acids are the building blocks of protein (and hair is made up of protein), they're thought to help support the strength and structure of the hair. Additionally, the serum is packed with moisturizing ingredients like aloe vera, hyaluronic acid, and vitamin E to condition and soften your brows.
GrandeBrow 2-In-1 Tinted Brow Gel + Brow Enhancing Serum
To boost brow health in the long run while immediately giving your eyebrows a noticeable tint of color, incorporate the brand's 2-In-1 Tinted Brow Gel + Brow Enhancing Serum into your makeup routine. The part makeup, part serum comes in four different colors to blend in with your natural eyebrows while filling in sparse spots and giving your existing brow hairs a fuller appearance thanks to mini fibers. The 12-hour tint also coats brows with a nourishing serum that promises to improve your makeup-free arches with six to eight weeks of daily use. Fatty acid-rich castor oil is the primary, expert-approved ingredient used to support brow health, but the serum also includes beet root extract, sunflower seed oil, and vitamin E.
This article was originally published on