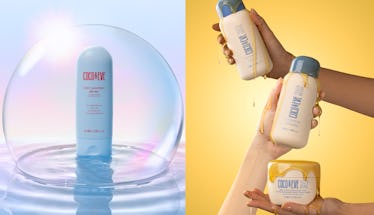 The Beauty Brand That Instagram Is Obsessed With Just Launched A Sunscreen, A Honey-Infused Hair Trio, & More
Coco & Eve
We may receive a portion of sales if you purchase a product through a link in this article.
Since its launch in 2018, Coco & Eve — the Aussie-born, Balinese-inspired beauty brand — has become a social media phenomenon. When they launched their shampoo and conditioner back in 2021, the duo accumulated a 47,000-person waitlist. On Amazon, their products have garnered tens of thousands of five-star ratings, and some, like their best-selling Like A Virgin Hair Masque, have achieved cult-favorite status. If you've been keen to try the brand out for yourself — whether you discovered them through an Instagram ad or our very own "best of" lists — here's a guide to the brand's latest launches and best-sellers that should be on your radar:
Honey Bliss Hair Set
One of Coco & Eve's newer additions, the Honey Bliss Hair Set targets the scalp for improved overall hair health. The three-step system comes with Coco & Eve's Pro-Youth shampoo, conditioner, and mask, each of which is formulated with the brand's trademarked PRO-VITALI-B blend, which contains a mix of manuka honey, propolis, and royal jelly extract. Retinol, a skin care staple for its ability to support skin cell turnover, is also included in all three products to help thoroughly cleanse the scalp and control sebum production (something that's especially helpful for those with oily scalps). But there are also plenty of moisturizing ingredients to balance things out, including coconut oil, avocado oil, and panthenol. The shampoo, conditioner, and mask also include probiotics, which help support the skin microbiome and combat inflammation to improve hair health by moisturizing and strengthening hair follicles. You can use the shampoo and conditioner every time you wash your hair, while the mask should be applied one to three times each week (depending on your hair type) after your shampoo and in place of your conditioner.
Body Sunscreen SPF 50+
The newest launch from Coco & Eve is their Body Sunscreen SPF 50+, which protects skin from damaging UVA and UVB rays using chemical sunscreen filters, rather than mineral ones. The lightweight and invisible formula is water- and sweat-resistant for up to 80 minutes to keep you covered through sweating and swimming, and contains a boost of moisturizing ingredients like coconut oil, aloe vera, and vitamin E to nourish and pamper your skin. Even though it's a chemical sunscreen, the brand notes that it's fragrance-free and dermatologist-tested for sensitive skin types (plus, aloe vera provides skin-soothing benefits).
Super Hydrating Shampoo & Conditioner Set
For a tried-and-true favorite, there's the Super Hydrating Shampoo & Conditioner Set, formulated for dry and dry-ish hair types. The coconut- and fig-scented duo is packed with moisturizing ingredients (including Coco & Eve's own hyaluronic acid blend) to aid with sealing split ends and adding maximum shine. In addition to coconut oil, avocado oil, argan oil, and guava fruit extract, the shampoo and conditioner contain pineapple fruit extract to gently exfoliate the scalp and help rid it of dry skin cells, product buildup, and excess oil.
Bond Repair & Restore Kit
For hair that's been damaged from too much heat styling or in-salon color treatments, you may need a bit more than a moisturizing shampoo. The Bond Repair & Restore Kit combines Coco & Eve's Hydrating Shampoo and Conditioner with a Bond Building Pre-Shampoo Treatment that uses a bond-building polymer to help strengthen and repair the hair's structural bonds. While the shampoo and conditioner can be used every wash day, the pre-shampoo treatment should be used sparingly (about once each week, on damaged hair only). As its name suggests, you'll want to be sure that you're using this before you shampoo your hair, applying the treatment from roots to ends on damp hair that's been towel-dried. Let the treatment sit in your hair for 10 minutes before you thoroughly rinse it out, following up with your shampoo and conditioner (and finishing up by using the included microfiber hair wrap to dry your hair gently but quickly).
Super Hydration Kit
If you're already hooked on Coco & Eve's hydrating shampoo and conditioner, the Super Hydration Kit adds the Like A Virgin Hair Masque, Shampoo Brush, Tangle Tamer, and a drawstring pouch into the mix. When you want a deeper clean, you can use the shampoo brush to gently massage the sulfate-free shampoo into your scalp to create a salon-like experience at home (while also helping to remove product product buildup and stimulate blood circulation to support healthy hair growth). Meanwhile, you'll want to turn to the hair mask weekly (or whenever your hair is feeling particularly dry) to hydrate, smooth, and increase shine in just 10 minutes. The formula uses fatty acid-rich coconut oil as its hero ingredient, as well as fig extract, shea butter, and argan oil to restore moisture and seal split ends. To better distribute the mask, Coco & Eve recommends using the detangling brush once you've applied it, but you can also use the brush anytime you need to gently detangle your hair (wet or dry).
Daily Essentials Bundle
If in-shower hair treatments aren't for you, the Daily Essentials Bundle gives you the hydrating shampoo and conditioner, as well as the Leave-In Conditioner for daily moisturizing and detangling benefits. The lightweight formula can be used on all hair types, and it uses a blend of coconut oil, avocado oil, shea butter, moringa seed extract, fig fruit extract, and hydrolyzed rice protein to help protect hair from breakage and damage while also restoring hydration and shine.