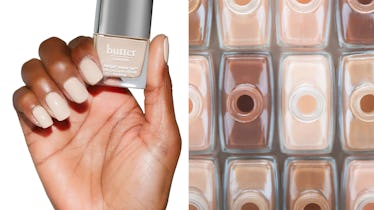 The Celeb-Approved Nail Trends You Need To Try This Summer — & How To DIY Them
A-list nails right from the comfort of home.
We may receive a portion of sales if you purchase a product through a link in this article.
When it comes to getting a new manicure — whether going to the salon or doing it yourself — the first step should always be to have some inspiration in mind. And if you've stumbled upon this page, it's probably because you want to try something new and different this go around. Here, you'll find a couple of cool celebrity-inspired manicure ideas that are totally worthy of your attention, all featuring products from butter LONDON. Not only will you find some great inspo, but you'll also learn all the tips and tricks you need to know to do them yourself (or have someone else do it if you're not the most skilled, like this beauty writer).
Chocolate Milk Nails
Say hello to one of the more unexpected nail trends of this summer. Worn by Blake Lively and other celebs, chocolate milk nails have been seen everywhere this season — further evidence that brown is the neutral of the moment. However, not just any old brown shade will work for this trend. Chocolate milk nails have a soft and cloudy look, as if you've literally mixed milk chocolate and a cup of cream with your finger. And to get the hue that works best for you, butter LONDON has the perfect duo, so you don't have to waste time searching and swatching tons of different polishes.
First, apply the brand's signature Patent Shine 10X Nail Lacquer in the shade 'Cotswolds Cottage' to your nails. This polish is a classic taupe color that's perfect for creating a frothy, milky base. You can apply one to two coats depending on how "creamy" you want your chocolate milk nails to be.
Next, you'll want to add one to two coats of the brand's Sheer Wisdom Nail Tinted Moisturizer in either 'Medium', 'Tan', or 'Deep' depending on how "chocolatey" you want your manicure. The tinted moisturizer offers a thin layer of protection that strengthens your nails to keep them moisturized and looking less dry and brittle over time, thanks to ingredients like vitamin E, keratin, tea tree oil, and arginine.
Lastly, to complete any nail look (unless you're going matte), you'll need a shiny top coat. Finish off your chocolate milk nails with the Hardware Shine UV Top Coat, which will give your manicure that much-loved glossy look while making it last longer.
The Products You'll Need
Lace Glove Nails
If you're after something a bit more whimsical and glamorous, you should consider copying Elle Fanning's Met Gala manicure. In previous years, the actress has always showed up to fashion's biggest night out with Instagram-worthy nails, and this year, she didn't disappoint. JICYMI, Fanning arrived on the first Monday in May with the most beautiful, almond-shaped "lace glove" manicure by celebrity nail artist Mary Soul. To recreate a similar look (minus the intricate real lace), butter LONDON has everything you need. Below, find all the steps to recreate Fanning's lace glove nails at home.
First, you've got to create the perfect base. Use butter LONDON's Nail Foundation Priming Basecoat to prime and strengthen your nails. Next, you'll want to give your nails one to two swipes of the brand's Patent 10X Nail Lacquer in 'Bespoke Lace.' This soft, sheer white polish is infused with delicate specks to mimic the look of an eye-catching flowery lace design. Finally, you'll want to finish the look with a single pass of the Hardware Shine UV Top Coat to protect and enhance your manicure.
The Products You'll Need
This article was originally published on