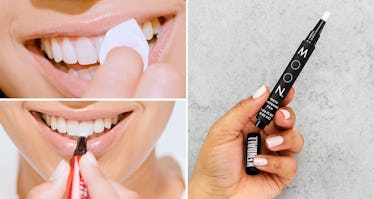 The Best Teeth-Whitening Pens For At-Home Use
Amazon
We may receive a portion of sales if you purchase a product through a link in this article.
At-home teeth whitening is a tricky business. Some products will leave you with tooth sensitivity and gum irritation, while others require weeks of dedicated use and barely deliver any results at all. But if you're looking for a way to slightly brighten your teeth and prevent future stains, cosmetic dentist Victoria Veytsman says certain teeth-whitening pens can get the job done. For the most effective whitening pen that won't cause any tooth sensitivity, Dr. Veytsman says the best teeth-whitening pens use a peroxide solution to brighten up your smile. "Peroxide is the active ingredient in whitening products and the main ingredient that works to fizzle stains off of your teeth before they settle in," she explains, citing hydrogen peroxide and carbamide peroxide as two of the most common active ingredients used. However, you don't want to overdo it. "Avoid products that have a super high percentage of hydrogen peroxide as it can cause irritation to your gums and teeth and isn't to be managed at home," she cautions, noting that anything over 5% is too much for at-home use.
Also, it's important to be realistic about the results you can expect from an at-home whitening product. "While I always recommend in-office teeth whitening for a full smile whitening, teeth-whitening pens are great on-the-go products for maintaining your teeth's brightness and color," Dr. Veytsman says. "You won't see a dramatic effect after using them, but I think they are great to swipe on after you've had a teeth-staining food or drink such as coffee, tea, or red wine."
The Expert
Dr. Victoria Veytsman, DDS, is a general and cosmetic dentist specializing in preventative care and restorative dentistry. Additionally, she is a celebrity dentist known for her smile makeovers, and she has served as the official dentist for organizations like Miss America and the New York Giants Cheerleaders. Dr. Veytsman is the founder of Cosmetic Dental Studios, with offices in New York City and Beverly Hills.
How To Use A Teeth-Whitening Pen
Every whitening pen will come with its own set of instructions that you should read through before you get started (and follow exactly), but Dr. Veytsman shares a few of her top tips. "Whether it's hydrogen peroxide or carbamide peroxide, teeth-whitening pens are super user-friendly and make keeping up with your oral care easy," she says of the pens in general. "I would recommend rinsing your mouth with water to get all of the staining liquid out, and then swiping on your teeth with your whitening pen of choice," she shares, adding, "For best results, you should try to avoid eating or drinking anything after applying the solution to your teeth, as it could ruin the whitening process."
Pairing Whitening Pens With Other Teeth Whitening Products
If a whitening pen on its own isn't giving you the results you'd like, Dr. Veytsman says that you can potentially pair it with another at-home whitening product (or, use the whitening pens after a professional in-office treatment to maintain your pearly whites). "If you have no oral concerns and your teeth aren't super sensitive to whitening products, you can definitely use teeth-whitening pens in conjunction with teeth whitening strips, whitening toothpaste, or whitening mouthwashes," she says. Of course, that advice doesn't apply to everyone, and Dr. Veytsman notes that some individuals should even be wary of using whitening pens in general. "I would advise being careful with whitening pens if you have any gum issues, gum recession, or cavities that haven't been treated," she says. And when in doubt, it's always best to speak with your dentist first. "Always make sure to touch base with your personal dentist should you experience any kind of sensitivity using any dental products," says Dr. Veytsman.
Shop The Best Teeth-Whitening Pens
In a hurry? Here are the best teeth-whitening pens:
Best Daily Teeth-Whitening Pen: MOON x Kendall Jenner Teeth Whitening Pen
Best Teeth-Whitening Pen For Nighttime Use: Colgate Optic White Overnight Teeth Whitening Pen
Best Multi-Pack Of Teeth-Whitening Pens: SmileDirectClub Premium Teeth Whitening Gel
1. Best Daily Teeth-Whitening Pen
If you want to give a whitening product a try without having to invest a lot of money or time, Dr. Veytsman recommends this MOON Teeth Whitening Pen that was co-created by Kendall Jenner. "You can throw it in your bag, car, desk, etc., so you can use it whenever you need a touch-up," she says of the vegan and cruelty-free pen that uses a blend of fruit and plant extracts to give you different flavor options. Using urea peroxide as the active ingredient, the whitening solution can be applied to your teeth two times per day with full results being seen after two weeks of daily application.
Relevant Review: "My teeth have gotten stained over time from all the coffee I drink. I started using this day and night and I cannot get over how well it works! I have very sensitive teeth and other products I have tried have hurt. Moon is pain free and you can see the difference right away. Absolutely love it! Can't stop smiling."
2. Best Teeth-Whitening Pen For Nighttime Use
For those who have trouble committing to multiple applications per day, Colgate's Optic White Overnight Teeth Whitening Pen was designed to be used as the last step of your nightly oral care routine. "Made for before-bed whitening, one swipe, and it works its magic as you sleep," Dr. Veytsman says of the hydrogen peroxide-powered gel. When you wake up (or at least six hours later) you just need to brush the whitening gel away to slowly reveal a whiter smile. Colgate claims to remove years of stains in just one week when used as directed, and each pen contains enough product to last you 35 days.
Relevant Review: "I am very pleased with how quickly and how well this whitened my teeth. After about 6 applications my teeth were whiter than the results I got from a professional dental whitening."
3. Best Multi-Pack
For a whitening kit that comes with everything you need for a full year's worth of treatment, there's SmileDirectClub's Premium Teeth Whitening Gel. The gel formula is vegan and cruelty-free, and uses hydrogen peroxide to lift away stains without messing with your enamel. You'll get eight pens in this set, which was designed to be applied once in the morning and once at night for just one week. Those whitening results will last you for six months, after which, you can use your remaining pens to repeat the process. You can also use the pens in conjunction with the brand's Teeth Whitening LED Accelerator Light, which can still be used on the go and works in just five minutes to enhance your whitening results.
Relevant Review: "This product works better than anything else out there. Using this is like going to your dentist and getting your teeth professionally whitened."
Expert:
Dr. Victoria Veytsman, DDS, general and cosmetic dentist and founder of Cosmetic Dental Studios in New York City and Beverly Hills.