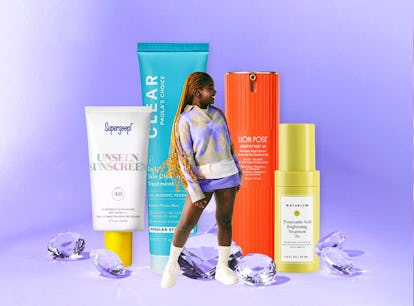 Your Melanin-Rich Skin Will *Love* These Ingredients
Plus, the one treatment to avoid.
We may receive a portion of sales if you purchase a product through a link in this article.
Products created by and for people of color continue to gain steam — according to 2022 McKinsey data, they present a $2.6 billion market opportunity (casual!). But when it comes to skin care, the oversimplification of complex science and misleading marketing tactics can create a lot of half-truths around how anyone with melanin-rich skin should care for it. Case in point: there's the belief that some skin care ingredients are unsuitable for darker skin tones. In response to these pervasive fears, we asked board-certified dermatologist Dr. Michelle Henry, M.D., if there are any ingredients she'd never recommend to darker skin patients. Her answer was simple: "No."
Virtually all ingredients are fair game across the skin tone spectrum. However, darker skin is more vulnerable to certain skin conditions, which means there's a right and wrong way to use products that successfully target these concerns. "If you're [one of my] darker skin patients, you're probably suffering with hyperpigmentation because any insult to our skin ultimately can cause [it]," says Henry. Instead of letting stubborn dark spots have a main character moment in your life, she recommends choosing specific products targeted to reducing inflammation and considering melanin-safe lasers for in-office treatments. Ahead, we break down the best ingredients to consider when addressing the top skin care concerns in darker skin tones.
For Dark Spots
Prescription Hydroquinone
"Although it's become controversial over time, hydroquinone is still one of the best and most effective treatments for hyperpigmentation," says Henry. The ingredient has gained a tenuous reputation because incorrect usage can cause serious side effects, including skin and cellular damage. Hydroquinone may have a bad rap, but many skin care professionals continue to advocate for it. Henry advises cyclical usage with two months on followed by two months off, and says to avoid hydroquinone products purchased from untrustworthy sources, blended with mercury, or in concentrations over 4%. For an over-the-counter product with hydroquinone, she recommends Obagi Nu-Derm's Hydroquinone Serum.
Retinoids, Vitamin C, Tranexamic Acid, Licorice Root, Niacinamide, and Kojic Acid
Active ingredients that slow the overproduction of melanin, called tyrosinase inhibitors, are ideal for treating hyperpigmentation. "There are so many great ingredients nowadays to help with pigment and retinoids, vitamin C, tranexamic acid, licorice root, niacinamide, and kojic acid are some of my top favorites," says Henry. Tyrosinase inhibitors work best when several are used together, but be careful of moving too quickly with high-percentage actives. "The more ingredients you have, the more there is a risk for irritation and hyperpigmentation," explains Henry. "Take a go-slow approach." Hyper Skin, Naturium, and Lion Pose make brightening serums with these ingredients that will help with discoloration and dark spots over time, without causing irritation.
SPF
"If you can only do one thing in the morning, I want you to apply sunscreen," says Ginille Brown, nurse practitioner, cosmetic injector, and owner of Ginille Beauty medical spa. "If you're getting sun exposure and using some of these acids, that's when you're going to see dark spots."
Sun exposure triggers new hyperpigmentation and worsens current hyperpigmentation, yet sunscreen adoption amongst those with darker skin remains low. "The mistake people make is thinking because dark skin doesn't get red as quickly, it's not as sensitive," says Henry. "In many ways, it's more sensitive. It won't get red, but it'll hold hyperpigmentation for years and years."
Brown prefers mineral sunscreens. "I think most people can tolerate them better," she says. "The harder thing for Black and brown skin is finding one that doesn't look white or gray on the skin." Kiehl's, Summer Fridays, and Supergoop! all make SPF options that blend seamlessly, no matter your skin tone.
For Acne
Low Percentage Benzoyl Peroxide
Acne treatments have a reputation for being aggressive and skin-stripping, posing a hyperpigmentation risk for darker skin tones. "Look for lower concentrations, go slow, and do test spots before introducing a new product to make sure you don't get a reaction," advises Henry. Paula's Choice Daily Skin Clearing Treatment has 1.5% benzoyl peroxide that clears out acne-causing bacteria over time.
Retinoids
Retinoids are a family of versatile ingredients considered the gold-standard for acne, aging, and pigment concerns. While highly effective, stronger retinoids, like tretinoin, can cause irritation. Instead, consider starting with retinol at 0.25% or 0.5%. "Start out once or twice a week and slowly build up until you can tolerate it three, four, and five times a week," says Brown. Bonus: by properly treating acne and calming inflammation with retinol usage, you'll also treat and prevent dark spots. Korean skin care brand COSRX makes a gentle retinol cream with 0.1% retinol, which makes it perfect for anyone with hyper-sensitive skin; or, try the brand's new Retinol Oil, which blends 0.5% retinol with skin-soothing squalane.
For Rejuvenation
Lasers and Light-Based Treatments
While laser technology has made significant strides to safely treat darker skin, IPL (intense pulsed light) is not yet there. IPL targets the darker color in unwanted hair or dark spots and destroys them with light-based heat. To date, the technology can't discern between the natural pigment of darker skin and overproduced pigment. "It's going to cause a burn and it's not safe," advises Brown. Lasers offer more treatment options, but Brown urges that patients should still research potential providers, check client before/after photos, and know what laser will be used before booking a service. "I know it's asking [patients] to do an extra step, but we have to do the research before we go in because I don't think the [general] aesthetic community is always educated on how to treat Black and brown skin," she says.
Injectables
The key to Botox and fillers is knowing how much or how little will give you the exact result you want. Unfortunately, injectable products are often tested on non-diverse subject groups and fail to replicate results on others. "Can we talk about how I can use [an injectable] in a 27-year-old Black girl or 40-year-old Latina woman?" asks Brown. "We have thicker skin usually, so we need something that's actually going to create a lifted effect where we are treating." Brown again advises patients against dropping into unvetted clinics and to pore over before/after photos to find a provider who understands how to wield their tools for your desired result.
For Hair Loss
Minoxidil
Skin care is also scalp care, and Henry points to a crippling "epidemic" of hair loss in patients of color. "There are many genetic tendencies towards hair loss that we see in skin of color," says Henry. Central centrifugal cicatricial alopecia is a hair loss disease that occurs almost exclusively in Black women. "Also, our styling practices — beautiful braids, extensions, and wigs — put tension on the hair and can often cause hair loss," she adds. Prescription minoxidil is the leading treatment for hair loss and is often combined with other topical or oral medications like hair growth factors and spironolactone.
While at-home and brand-promoted hair growth remedies are tempting, Henry stands firm on medical treatment only when it comes to hair loss. "The patients that cry in my office and the patients that are really emotional and really hurt are my hair loss patients," she says. "It's really important to me to vet every product. The scalp is hard to penetrate so it not only has to be the right ingredients, but also the right formulation."