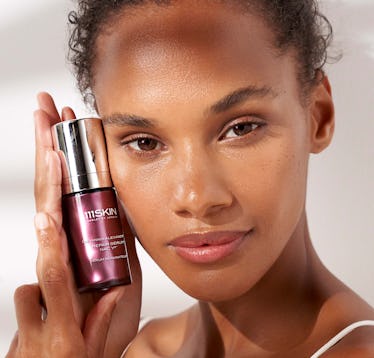 Meet The First-Ever Face Serum That Was Tested In Outer Space
It was recently formulated to be more effective than ever.
111SKIN
We may receive a portion of sales if you purchase a product through a link in this article.
Take a scroll through your Instagram feed ahead of any major red carpet event, and one thing is practically guaranteed: celebrities prepping their skin with face masks. Of course, any old face mask won't do when you're getting ready for the Oscars or Grammys, and among the celebrity set, it's all about 111SKIN, whose hydrogel face and eye masks work their magic in mere minutes (and make for a pretty solid photo op, too). But that's just scratching the surface of what 111SKIN, a luxury skin care brand that was founded by plastic surgeon Dr. Yannis Alexandrides, has to offer. Having established his London-based cosmetic surgery clinic, 111 Harley Street, in 2001, Dr. Alexandrides sought to create a product that would help his patients' skin heal faster following surgical and non-surgical treatments. That's when 111SKIN was born. Initially including just one serum when the brand launched 11 years ago, 111SKIN now boasts more than 65 products. And the hero formula that started it all — now called the Repair Serum NAC Y²™ — just got a major upgrade.
From its key ingredient developed with the help of biochemical engineers to its initial testing phase in space, here's everything you need to know about 111SKIN's celebrity-loved Repair Serum NAC Y²™.
The Science Behind The Serum
Originally known as the Dramatic Healing Serum when it first launched, the serum has since been renamed Repair Serum NAC Y²™ to reflect the science-backed formula that does everything from improving skin's hydration levels and protecting against free radical damage to increasing collagen production. NAC, which stands for N-acetylcysteine, is the groundbreaking technology at the heart of the serum, which is an amino acid that triggers the production of the skin-protecting amino acid, glutathione. Developed in collaboration with biochemical engineers, NAC is paired with anti-inflammatory escin (found in horse chestnut extract) and the antioxidant vitamin C (which further helps to protect the skin and boost NAC's efficacy). The resulting formula was tested by astronauts in space, where even in the most extreme environment, it proved to be effective at slowing DNA degradation. The Repair Serum NAC Y²™ also includes supporting ingredients like pink rock rose extract, centella asiatica extract, and calendula extract, which work to soothe skin while also increasing hydration levels.
It's rare for a brand to reformulate a product, especially when that product has a loyal following that includes celebrities like actress Priyanka Chopra. But given that scientific and medical technologies are constantly evolving, it makes sense to upgrade existing skin care products accordingly.
That's exactly why Dr. Alexandrides recently reintroduced the Repair Serum NAC Y²™, with a few small adjustments that have a major impact. If you're already a fan of the serum, you'll be happy to know that the ingredients haven't actually changed. What has changed is the concentration of NAC, which the brand says has been increased to make the serum four times more effective. Additionally, 111SKIN has utilized niosome encapsulation technology, which refers to how the product is delivered to the skin. This new encapsulation technology allows for the NAC (and other beneficial ingredients) to penetrate more deeply into the skin and be released over the course of eight hours for improved efficacy.
More 111 Skin Products To Try
Can't get enough 111SKIN? The next time you find yourself prepping for a big night out or sitting on an international flight, give your serum a boost by adding one of these face or eye masks to your routine.
Cryo De-Puffing Facial Mask
Inspired by the science behind cryotherapy, which uses cold temperatures to help reduce inflammation, Dr. Alexandrides developed this two-piece hydrogel mask to de-puff skin and increase circulation. Camila Morrone recently wore this while getting ready for Vogue's Met Gala pre-party, and Victoria Beckham has also snapped a picture of herself prepping her skin with the Cryo De-Puffing Facial Mask. A patented tetrapeptide complex and nonapeptide-1 are infused into the essence of this mask, which help to restore hydration, reduce puffiness, and stimulate the skin to prevent collagen breakdown. You can store this in the fridge for a more noticeable cooling effect, but 20 minutes is all the mask needs to leave skin looking and feeling refreshed.
Celestial Black Diamond Lifting & Firming Face Mask
Supermodel Kate Moss named this Celestial Black Diamond Lifting & Firming Face Mask as one of the "32 things [she] can't live without" when speaking with the Financial Times. Designed to have an immediate tightening and plumping effect on the skin, the hydrogel mask comes in two separate pieces that are infused with slightly different essences. As its name suggests, the mask uses diamond particles to allow the active ingredients to penetrate the skin on a deeper level, and those key actives include goji glycopeptides to tighten the skin, progeline (a bio-engineered peptide) to sculpt, and purified centella asiatica extract to encourage collagen production. There's also an eye mask in the Celestial Black Diamond collection, which is a go-to for Sienna Miller and Victoria Beckham, who likes to pair her masks with a face roller.
Rose Gold Illuminating Eye Mask
If you feel like your under eyes could use a brightening boost, take a cue from actress Sydney Sweeney, who's shared on multiple occasions that she always likes to have these Rose Gold Illuminating Eye Masks on hand. Hydrolyzed yeast protein, which 111SKIN explains is able to target the cells that produce melanin, is the star ingredient behind these mini masks, which also include colloidal gold to soothe inflammation and pomegranate seed to brighten unwanted dark circles.
This article was originally published on