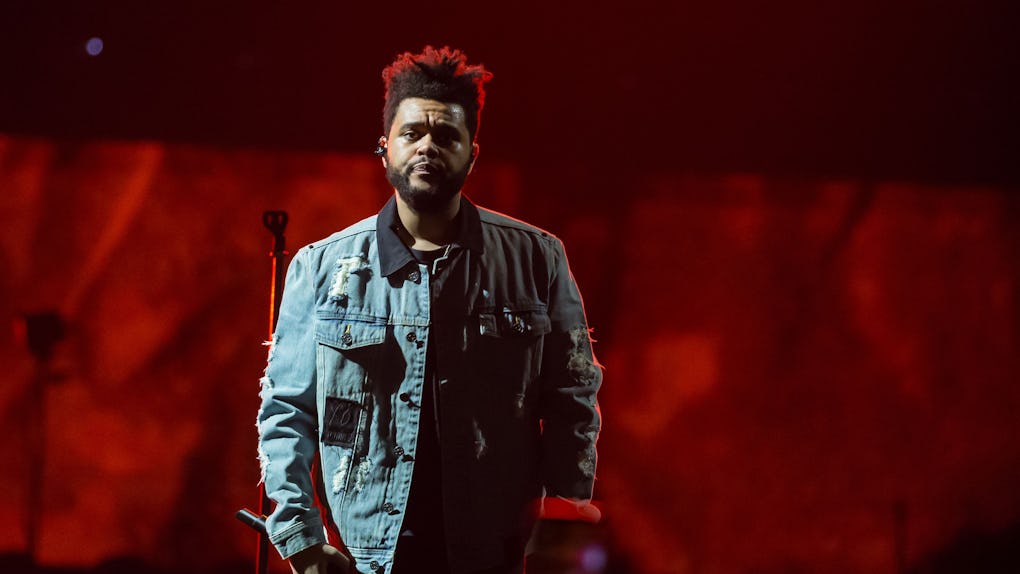 SUZANNE CORDEIRO/AFP/Getty Images
Video Of The Weeknd Grinding With Girls After Selena Gomez Breakup Will Make You Miss Their Love
We're rounding up to 48 hours since the official announcement of Abelena's breakup, and already there's a video of The Weeknd dancing with girls floating around. This past Monday on Oct. 30, word spread that Selena Gomez and The Weeknd reportedly called things off after being together for ten months, and we all seem to be way more heartbroken than they are.
After what appears to be a mutual split, fans have been closely monitoring their every move, looking for signs of life, details on the breakup, and how they're holding up emotionally.
Elite Daily reached out to both Gomez' and The Weeknd's teams for comment, but did not hear back by the time of publication.
In the immediate days after the news broke, both musicians posted various things on their Instagram accounts, none of which were sad, emotional, or sappy. While Abel did unfollow a few people near and dear to Selena (like her mom, her assistant Theresa Mingus, a few #Abelena fan accounts, her best friend and kidney transplant donor Francia Raise), he also shared a sassy selfie from Toronto. Later, he was videotaped dancing in the same outfit with an unknown woman.
The selfie itself is, well, super boring, and he captioned it "Toronto nights."
...K.
TMZ found a video of Abel rocking the same bomber jacket later that evening in a club, flashing the rock and roll sign and nuzzling a lady's neck. Apparently, it was at a launch party for artists 21 Savage and Offset, and Metro Boomin's new album titled Without Warning.
Take a look.
Hm... Selena who?
For her part, Gomez seems to be just as happy-go-lucky, recently posting a video on her own Instagram account while riding around on a bicycle in Los Angeles and singing her new hit "Wolves." In the video, she and a friend are spotted smiling, laughing, and taking pictures with fans.
Not for nothing, she has also recently been spotted hanging out with the one and only Justin Bieber.
I'm not over it yet either.
TMZ also caught up with the two ex-lovers hanging out at a cafe in Westlake Village, just, like, shooting the sh*t. Sources claim the Biebs has nothing to do with the breakup, but geez are they making that hard to believe.
Elle magazine reports that Justin is actively trying to get her back, but knows he has a lot of work to do.
A friend of his claims,
Justin is aware Selena's family is not thrilled they are hanging out. They think he caused Selena a lot of grief. Justin hopes he can prove to them that he has changed.
Still, reports suggest Bieber is doing great, particularly after taking some time off and canceling his Purpose tour to soul search and work on his mental health. One source told People magazine he's "doing much better" and added,
It has been a process, but he's doing so much better. You can talk to him and see that the old Justin is coming back. He seems happier, more energetic. It's encouraging. He's not completely there, but he's definitely on his way.
Interesting.
For now, while neither Abel nor Selena have officially commented on their split, it looks safe to say they're doing just fine. Both musicians have had an incredible year in their respective careers, and something tells us this isn't the last time love will strike for either of them.
In the meantime, anyone catch the name of that woman?
Check out the entire Gen Why series and other videos on Facebook and the Bustle app across Apple TV, Roku, and Amazon Fire TV.