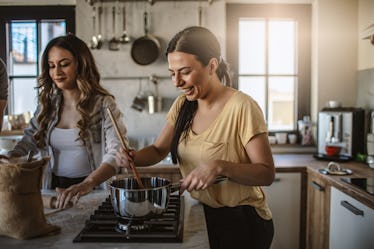 There Are So Many Viral Mac & Cheese Recipes On TikTok Right Now, You'll Melt
MilosStankovic/E+/Getty Images
Your cheese pull content is about to get even feta. Using these viral mac and cheese recipes on TikTok, you can transform your go-to comfort dish into a gourmet creation — even if it doesn't look like one. These recipes are oozing with creative flair, innovative hacks, and spicy twists that will tempt you to recreate them on your own feed.
When you watch these dishes come together, you may wonder if you clicked on the right video, as some of these recipes don't resemble a traditional macaroni and cheese at all. Don't fret, there really is cheesy pasta in that donut or layered under packets of Hot Cheetos powder. They may sound strange at first, but that just goes to show how much these TikTok mac and cheese recipes think outside the pasta box.
If you're interested in something more laid-back, you can still find a TikTok mac and cheese recipe that fits your palette. Follow an easy method that makes mac and cheese in minutes, using only a single dish to spare you from any extra clean-up time. Heck, the most viral creation of them all — "macaroni... with the chicken strips" — is literally mac and cheese with a side of chicken strips. Done and done. If you've been loving the baked feta pasta trend on TikTok, you'll appreciate the TikTok mac and cheese dish that uses a similar method below.
Basically, there's a viral mac and cheese recipe on TikTok that everyone can find oh so gouda. The only thing left for you to worry about is how many TikTok videos of your cheese pulls are too cheesy to post.