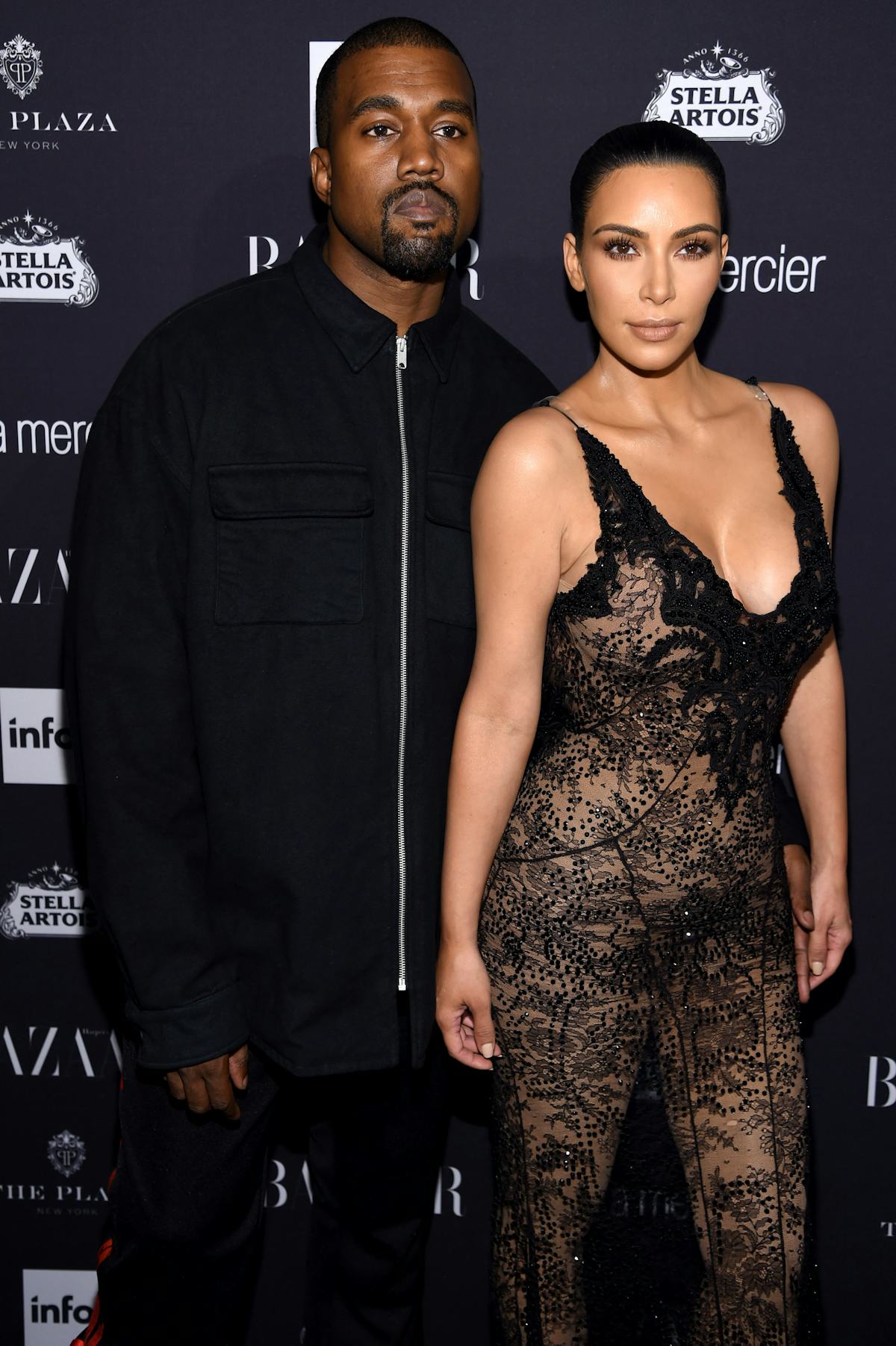 This Video Of Kanye West After The Birth Of His Third Baby Is Everything
Dimitrios Kambouris/Getty Images Entertainment/Getty Images
After months of snooping and waiting and hoping (and more waiting), the newest member of the Kardashian-West family has arrived. Fans have confirmation straight from Kimmy K herself. I'm sure things are hectic right now, but mom and dad West must be thrilled to welcome home their new daughter. Also, how much cuter will photos of North and Saint be with their new sibling? I can't. If it's been this long of a wait for me, I can't imagine how relieved Kim and Kanye must feel now that their third baby is finally here. There's actually video evidence of Kanye's happiness — HE'S ACTUALLY SMILING. The first video of Kanye West after the birth of his third child has been released, and it's so sweet.
Kim used her app (which I'm downloading ASAP) to spread word that her third child had arrived via surrogate. In a thoughtful note to fans posted on Jan. 16, Kim wrote,
January 15, 2018, 12:47 a.m. 7 lbs 6 oz. Kanye and I are happy to announce the arrival of our healthy, beautiful baby girl. We are incredibly grateful to our surrogate who made our dreams come true with the greatest gift one could give and to our wonderful doctors and nurses for their special care. North and Saint are especially thrilled to welcome their baby sister. Love, Kim Kardashian West.
PICTURES? NAME? I can't blame Kardashian for wanting to keep a few things private for now. Knowing Kardashian, she'll definitely spill the details soon. We love you for that, Kim.
According to TMZ, the birth took place at Cedars-Sinai and Kardashian was the first person to have "skin-to-skin contact" with her daughter, shortly followed by Kanye West.
It looks like things are returning to normal in the Kardashian-West house because the paparazzi caught West going back to work in his Calabasas studio on Jan. 16.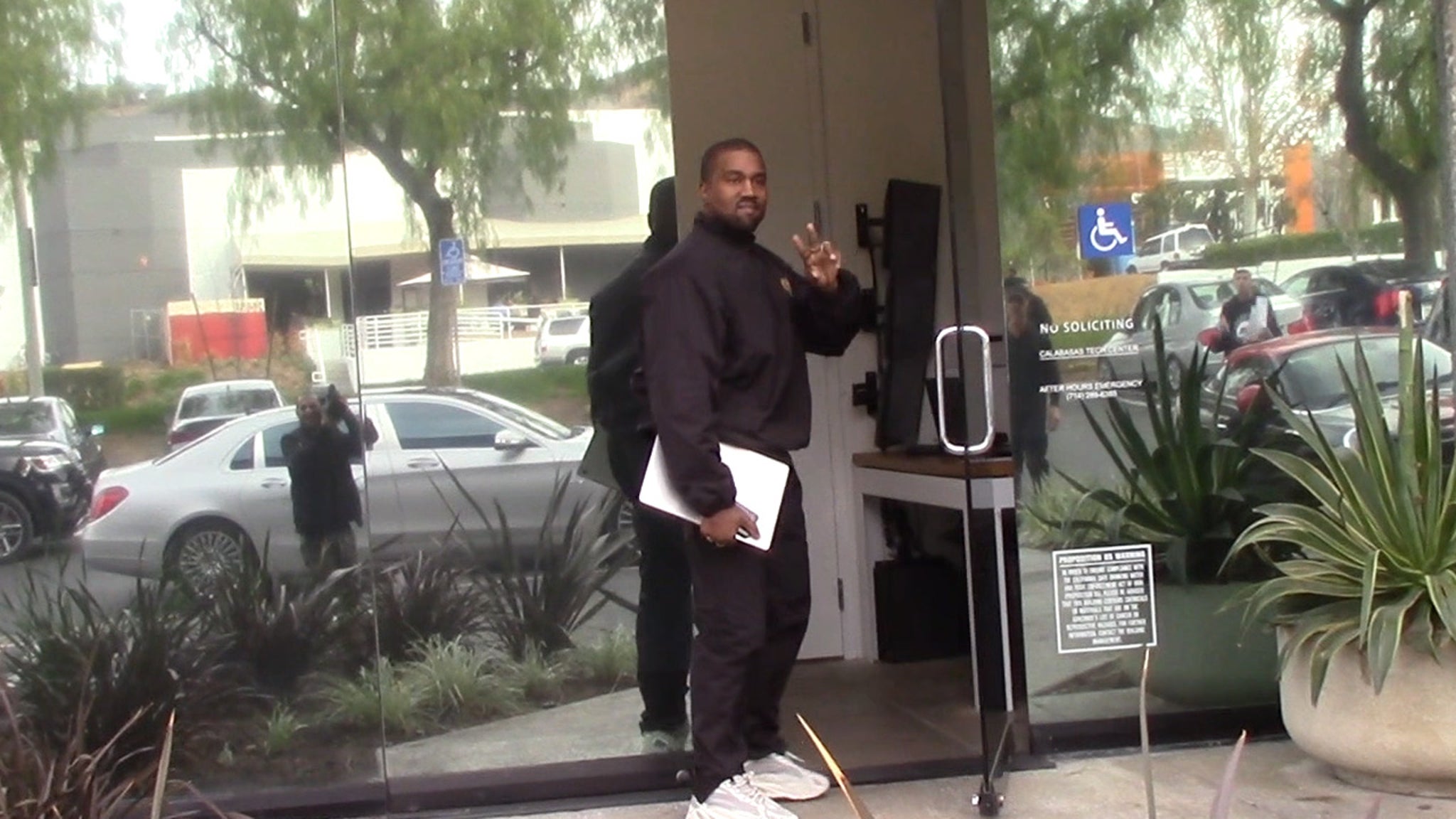 Usually, I'm not sure what to expect from Kanye. He's pretty unpredictable. However, there's no denying he's beaming with pride after he flashed that big smile to the cameras. He even waved — which is huge for West. A smile and wave from Kanye West is basically like a hug from a regular person.
Who wouldn't be excited? I'm excited and I will probably never meet the new baby or anyone related to her. Sad? Maybe, BUT BABY KARDASHIAN-WEST IS HERE AND I DON'T CARE.
If you're wondering how long we'll all have to refer to her as "baby Kardashian-West," I'm not sure. Kardashian discussed possible name choices with Ellen DeGeneres in November. Although there was no name decided at that time, Kardashian did have a few ideas she was "vibing" with. She told DeGeneres,
I do like different name[s] — but short, easy to spell, one syllable... That's kind of my vibe.
Ellen used her name generator to come up with a few winners: "Lip-Kit West," "West West," "Pop West," and "Star West" made the top of the list.
As it turns out, someone in the family already had strong feelings toward the name Star. Kardashian's daughter, North, came up with the name first and loves it. Kim continued,
I'm not going to name her Star, but my daughter picks that name all the time ... She got a toy and it's a llama — 'Baby Sister's' toy that she took — and I said, 'Well, OK, what do you want to name the llama?' She said, 'Star— Star West!' So, she names everything Star West. I'm not vibing on it.
Honestly, if Kardashian did name her baby Star, I wouldn't even be surprised.
Now that the new baby has finally arrived, all the exciting stuff is right around the corner. I'm so excited for pictures, videos, and hilarious stories from Kardashian. Congrats, Kim and Kanye.
Check out the entire Gen Why series and other videos on Facebook and the Bustle app across Apple TV, Roku, and Amazon Fire TV.