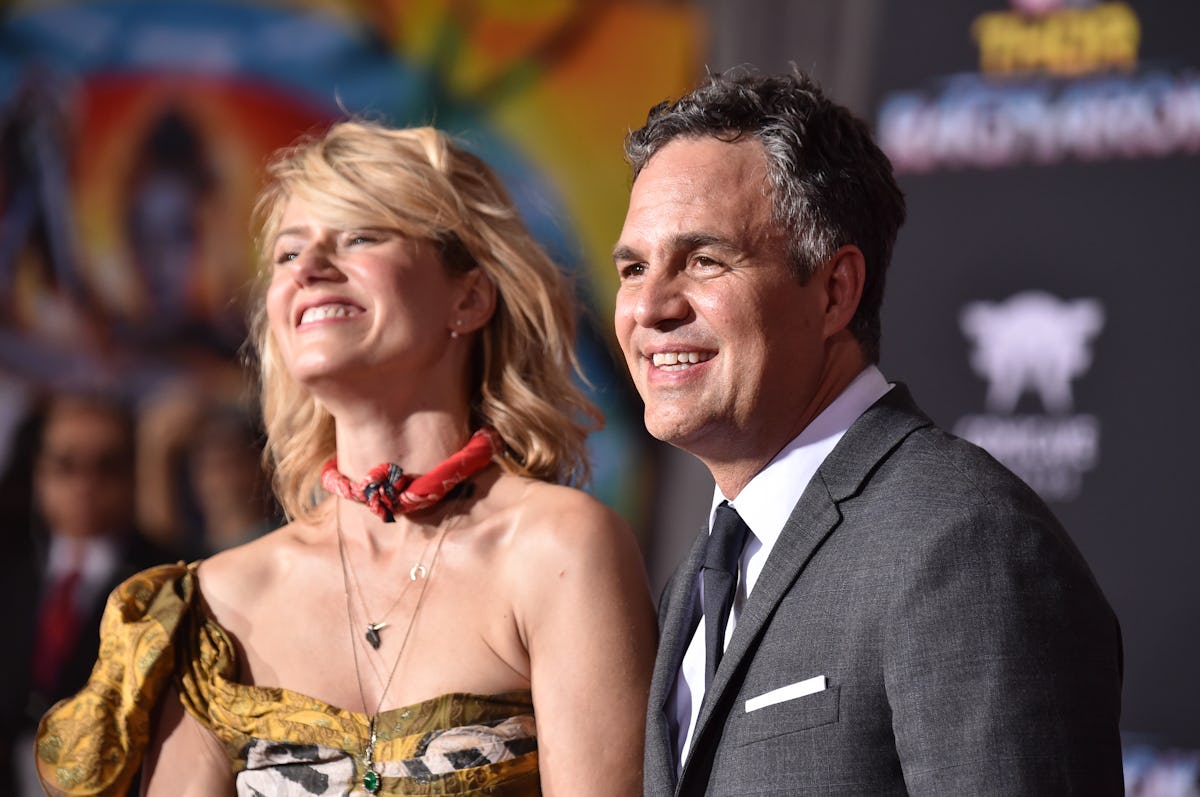 Mark Ruffalo Accidentally Put The First Few Minutes Of 'Thor' On His Instagram & Fans Are Not OK
Frazer Harrison/Getty Images Entertainment/Getty Images
Marvel's next major feature film in the MCU is Thor: Ragnarok, which opens at the beginning of next month on Nov. 3, 2017. This week, the red carpet premieres began, with the first one being the US premiere in Los Angeles. While most of us debated about Tom Hiddleston's plaid suit (a bit much) or oohed and ahhed over Tessa Thompson's gown (Cate Blanchett worthy), the actor who plays Hulk got a little over eager. Mark Ruffalo accidentally streamed Thor: Ragnarok on Instagram... at least the first few minutes of it.
Ruffalo was slated as the hype man, tapped to do the introduction live at the El Capitan Theatre before the screening began. He was introduced by a recording of Jeff Goldblum, whose appearance in the new film is one of the major selling points.
Though this is technically a Thor movie (the third in the Hammer of the Gods stand alone series), Hulk has a major part in it. Ruffalo has teased, due to Hulk not having his own stand alone franchise, this Thor movie (which rightly could really be considered Avengers 33 1/3: The Smell of Thor), and the next two Avengers installments will contain a story line therein that can be considered a "Hulk trilogy."
So Ruffalo hits the stage, and he's hyping up the crowd right? And he's showing off video of the excited audience on his Instagram account for those watching at home to help hype the movie for everyone around the world, as one does.
But then, being a bit of a dingus (not unlike Bruce Banner), Ruffalo pocketed his phone after the introduction was over... forgetting to turn the recording off.
That happened.
Ruffalo was sort of lucky, only about 2,500 people had tuned into his Instagram stream to see the premiere, and then stuck around to realize it was still recording when the movie began. Now, it's not like Ruffalo was pointing it at the screen. The phone was in his pocket. So there's no video. Just audio of, you know, the first fifteen full minutes of the movie.
Not only did it broadcast the full audio of the movie, but also the audiences reactions, including Ruffalo and the crowd laughing at certain opening scenes.
So much for spoilers, right? The irony was that Marvel thought they had this event on lock. Not only was every audience member (who wasn't an A list celeb who stars in the movie) made to turn off their phones, but then security had those phones locked up inside sealed pouches before the audience entered the theater.
So even though the audience had their phones, they couldn't take them out and power them back up again. (The crowd then had to go back through security on their way out, and have their pouches unsealed again.)
Everyone that is, but a certain superhero. At 8:15 p.m. a good quarter of an hour into the movie, the recording abruptly ended. There was no sound of security walking up to Ruffalo and telling him his phone was recording, but suddenly he pulled it out of his pocket and realized he was recording and shut it off.
Twitter found this all very hilarious.
He looked very sheepish.
Though Marvel has been so thorough about spoilers, the truth is, Ruffalo probably won't get in trouble. The videos of Ruffalo's audio were tracked down very quickly and squashed, but there didn't seem to be that many of them to begin with.
Most fans seem to want to keep spoilers under wraps so everyone can enjoy the film when it comes out in three weeks time. We salute you, Marvel fans!