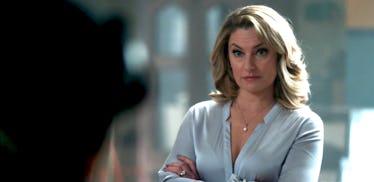 New Theory Says Betty's Mom Is A Witch On 'Riverdale' & TBH, It Makes Total Sense
CW
As if that Season 2 premiere of Riverdale wasn't crazy enough, a new theory about one of the show's more formidable characters has me shook. to. the. core! We already knew there was something scary about Betty's mother Alice Cooper (played with chilling harshness by queen of eyebrow-arching Mädchen Amick), but now fans of the show are starting to put together some clues that may suggest Mrs. Cooper is more powerful than any of us realized. Like, supernaturally powerful. Yep — there's a Riverdale theory going around that Alice Cooper is a witch! The magical theory was presented by a user of the fandom site Amino, and has spread among many fans of the show.
This may sound kind of ridiculous at first, but once you think about it, the spooky theory actually adds up! Although Riverdale hasn't dealt with the supernatural up to this point, we know that it will be introducing at least one witch soon enough now that its Sabrina the Teenage Witch spinoff series The Chilling Adventures of Sabrina has been confirmed to premiere next year. While viewers have been wondering when (or if) Riverdale is going to introduce Sabrina in the currently airing second season, some fans think there may already be a witch in town. If the theory about Alice Cooper being a witch proves true, it could be a way for the series to lay its groundwork for Sabrina's arrival.
OK, so let's get to theory. Much of it boils down to Alice's suspicious word choices, although there are also some genetics that may come into play as well. Fans have noticed that Alice loves to drop occult terminology into her everyday speech, including bizarre references to making sacrifices to pagan gods and using sage to banish evil spirits. Definitely not normal mom-talk...
Another potentially telling moment came when Alice was yelling at her husband Hal Cooper in the midst of the mystery over who killed Jason Blossom. In the scene, she threatens to do something drastic, warning her husband that he knows "what [she's] capable of." He responds with worry over what others would think if this ambiguous secret came out. At the time, this made fans think that Alice and Hal may have had something to do with Jason's murder, but now that we all know they had no part in it, what could Alice be threatening? Was she threatening to use her magical powers on Hal?
Alice: "Get out! Before I do something that we'll both regret. And I think, by now, you know what I'm capable of."
Hal: "No. What would people think?"
Alice: "I don't... I don't care anymore..."
And then there's the blondeness of it all. Bringing up hair color may sound like a really weak argument, but in a show as obsessed with dividing its tribes by the color of their hair as Riverdale (redheaded Blossoms vs. brunette Lodges vs. blonde Coopers), it actually is something that could be notable. The fact that Sabrina is a blonde, just like the famously blonde Cooper family, could be an indication that she's somehow related to Alice, Betty, and Polly. If that proves true, it could mean they don't only share the hair color gene, but also the ability to cast spells.
Yes, this theory also includes Alice's daughters Betty and Polly, who may have the witching trait in them, but Alice is raising them as mortals and keeping their innate powers (as well as hers) a secret. According to the comic series that The Chilling Adventures of Sabrina will be based on, a witch has to go through a satanic ritual when she turns 16 to accept her powers. We know that rule will remain true in the TV adaptation, since the ritual appears in the first page of the Sabrina script that showrunner Roberto Aguirre-Sacasa uploaded to Twitter.
So the theory goes that Alice sent Polly away when she was reaching that age in order to keep her eldest daughter mortal, and the instances of Dark Betty that we've seen pop up in the show could be signs that Betty is starting to tap into her dark powers now that she's approaching 16. A couple months ago, Lili Reinhart revealed to me that Season 2 will have a lot to do with Dark Betty — could this include the realization of her bewitching family secret?