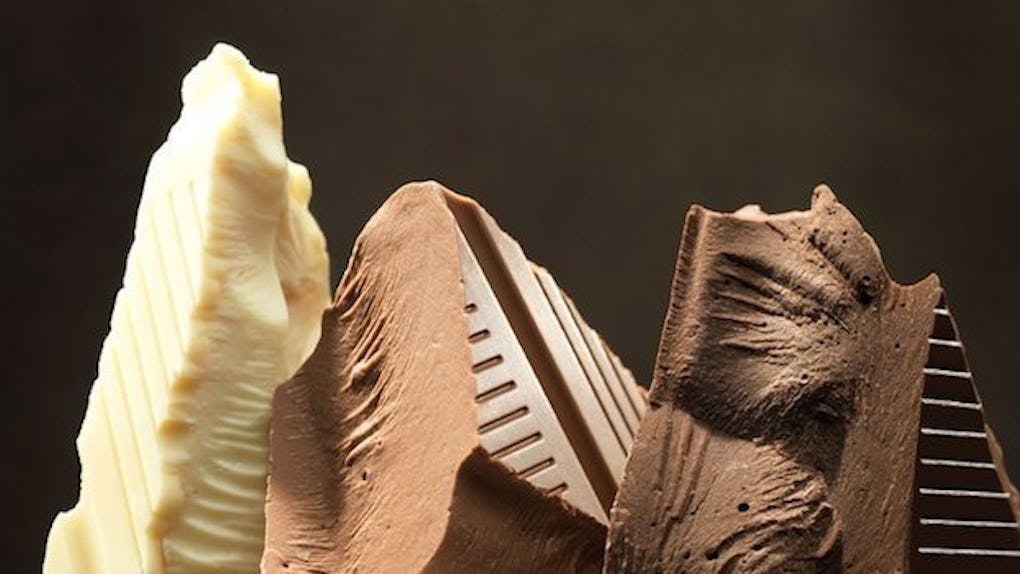 Berry Callebaut
PSA For Chocolate Lovers: Chocolate That Won't Melt In Your Hand Exists
Perhaps one of the greatest advancements in science has been made.
Belgian researcher Frederic Depypere discovered a way to prevent chocolate from melting in your hands while still maintaining its delicious texture and taste.
More specifically, the chocolate can remain solid up to 100.4 degrees Fahrenheit, and that's about four degrees warmer than what most chocolate can handle today.
The inspiration for this product came when Depypere brought his chocolate to the Belgium pavilion at the World Expo in Shanghai. Because of the city's high temperatures, the candy turned to mush.
Depypere, a research and development manager at Barry Callebaut AG, said,
I thought if we want to bring a product to countries like China or India, we need to change something.
The advent of this new chocolate product could completely change the chocolate-selling game in Asia-Pacific, Latin America, Africa and the Middle East. According to Bloomberg Business, research firm Euromonitor predicts the chocolate markets in these countries will grow more than 50 percent by 2019.
However, this isn't the first time someone tried to give chocolate a higher melting point.
Since World War II, Hershey has been trying to develop chocolate that doesn't melt, and while no success came of the venture then, the company is now saying it's two years away from being able to sell chocolate that stays solid up to about 100 degrees Fahrenheit.
Other companies such as Nestlé and Mondelēz also claim to be developing similar projects.
Truthfully, I don't care who successfully sells this chocolate first; I just want to be able to eat chocolate outside on a nice summer day.
Citations: Chocolate Now Wont Melt in Your Hands Because Science (Bloomberg Business)