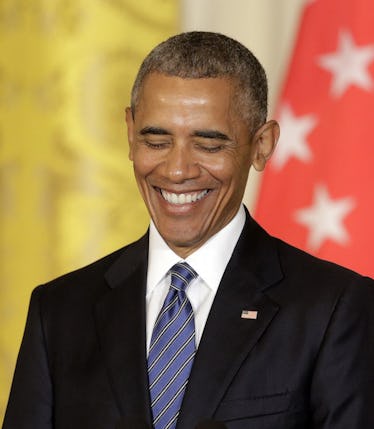 Happy Birthday, Mr. President: 26 Times Barack Obama Has Killed The Game
REUTERS
In honor of President Barack Obama's 53rd birthday, we thought we'd highlight the times that he was absolutely, unequivocally, killing the game. Happy Birthday, Mr. President!
1. That time he played soccer with a robot.
2. Literally, every single time he fist bumps Michelle Obama.
3. When he admitted to smoking weed, and that he "inhaled frequently" because "that was the point."
4. Basically any time he fist bumps somebody because science says it spreads fewer germs. It's cool, and it's healthy. Well played Mr. President. Obamacares about your health... Get it?
5. That time he called Kanye West a jackass... because he was being a jackass.
6. That time he told republicans to stop hatin' because, let's face it, they've been sippin' on a lot of Haterade lately.
7. That time he displayed common sense and publicly stated that marijuana is no more dangerous than alcohol.
8. That time he looked like this.
9. ... And this
9. That time he joked that the pies made in the White House were so good, they might have "crack in them." And then his wife put him in his place. "There is no crack in our pies."
10. That time he sang some Al Green... While you have excellent taste in music, it's probably best that you keep your day job, Mr. President. #JustSayin
11. That time he came out in support of same-sex marriage.
12. That time he danced like this...
13. That time an audience member heckled him, and he kept his cool and told her to let him finish. Because you don't interrupt the president.
15. That time he called hip-hop an art form...
16. That time he stepped up on the stage and stared Putin down like it was "Rocky IV" all over again.
17. That time he missed a layup (okay maybe not so much)...
18. While we are on that subject, that time he admitted that his basketball shot is "broke."
19. That time he went out to eat with regular Americans who wrote him letters because he cares and wants to hear their stories.
20. And that time he went out to lunch at Chipotle... Because Chipotle is delicious and nutritious.
21. That time he threw out the first pitch and, unlike 50 Cent, actually got the ball to the plate and to the glove.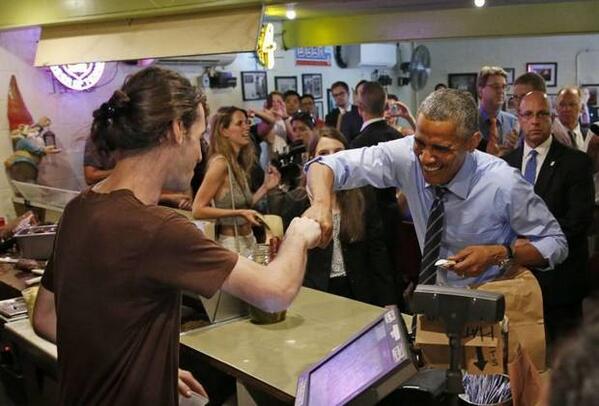 23. That time he released his official birth video, just in case anyone had any doubts about his origins.
24. That time he absolutely destroyed CNN, MSNBC and Fox News at the White House Correspondents Dinner...
25. That time he drank a pint of Guinness and made this impeccable face during a toast.
26. That time when he stood up for the fact that prosperity in America is not an exclusive privilege, it is something that should be afforded to all peoples, regardless of race, age, sexual orientation or socioeconomic background.
Thank you, Mr. President! And Happy Birthday!
Top Photo Credit: Getty Images