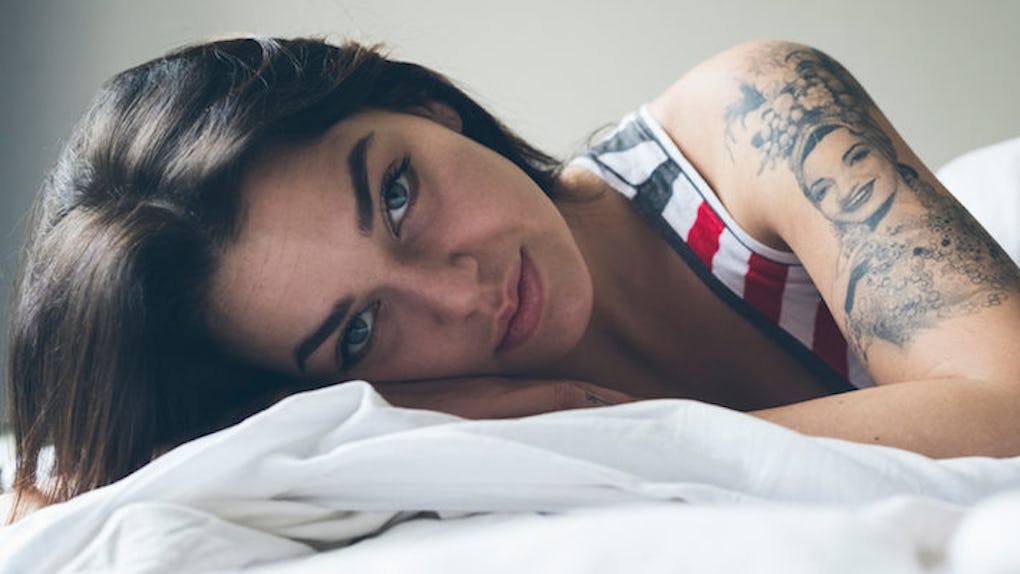 Simone Becchetti
How Getting A Tattoo Gave Me The Positive Body Image I Was Looking For
I've always wanted a tattoo. In high school, I spent countless hours on Pinterest scoping out ideas of art to decorate my body with. On my board called "Make the Mark," I pinned ideas of Harry Potter-themed tattoos, Van Gogh quotes, Hamsa symbols, sunflower designs and dandelion drawings.
It was during my senior year when I found the most perfect concept: sophrosyne (σωφροσύνη). The Greek word means a healthy state of mind, characterized by self-control, moderation and a deep awareness of one's true self, resulting in true happiness.
This word and definition really resonated with me. As someone who has struggled with mental health her whole life and often strives to find a healthy state of mind, it felt so personal and true to me. I believed having this word on my body would remind me to always keep my happiness a priority and would motivate me to strive for acceptance of myself.
Fast-forward a couple of months to August 2015, my first month of college. I lived in Worcester, MA and was having a difficult time adjusting to life away from home. I made some great friends, but I was still questioning whether or not I had found my place on campus.
A few weeks into my freshman year, I received a phone call from a friend of mine who also lived in MA. We talked about how we were doing.
I explained to her how I was having a hard transition to school and felt like I was struggling. We made plans for her to visit me the following week, so we could offer one another support and catch up.
When that Monday afternoon rolled around, my friend pulled into the parking lot next to my dorm, and we gave each other a big hug. Given that I was from Maine and she was from Massachusetts, it had been difficult to make plans to see each other over the past couple of months. After seven months went by without visiting one another, it was so nice to finally see her pink hair and welcoming smile in person.
I showed my friend my dorm room and introduced her to my friends, and we talked about what was new in our lives. We brainstormed what to do with our next few hours, and it finally came to me: She had a car, and she could totally take me to get a tattoo.
I pulled out my laptop and showed my friend the word and its definition. She loved it, and as someone who also struggled with anxiety, she felt that it would provide me with a meaningful reminder for life. We Googled some tattoo places nearby and decided on one that was about a 15-minute drive away.
On our way to the tattoo parlor, we blasted music with the windows down, talked about guys and discussed her upcoming college decision process, since she was a senior in high school at the time.
When we finally reached the tattoo parlor, a wave of anxiety flooded over me. Was I really following through with this? Would I be able to handle the actual process of getting a tattoo? Would it be worth the money? My friend calmed my nerves as we headed inside.
After filling out some forms and meeting with the tattoo artist to discuss my idea, it was time. I sat in the red cushy chair with my left arm extended. My friend squeezed my hand tight, distracting me from the pain I was about to endure. The tattoo artist was very kind and friendly and kept conversation going with us the entire time.
As soon as the needle hit my skin, I felt instant pain. I tried to shrug it off, but it was very hard to endure. I tried to keep my mind occupied as much as possible.
However, once I saw the word start to form in black ink on my left arm, the pain became a little more bearable. I loved it, and I hoped that the word and its definition would provide me with a sense of hope for the future.
About 20 minutes later, the tattoo was done. My friend snapped some pictures of the finished product before it was wrapped in Saran wrap and taped.
I thanked the tattoo artist for providing me with such a great first tattoo experience. After paying for my tattoo, my friend and I went out for pizza and then headed back to my school.
I couldn't wait to show my friends my new tattoo. They were super impressed that I actually followed through with the idea. They also loved the message behind it.
I ended up telling my parents about my tattoo that evening (they were not happy) and posted a picture of it on Instagram. I got many texts from my friends from high school that night. ("You got a tattoo?!" "What does it mean?!" "Did it hurt?!")
Months later, I still don't regret my first tattoo. Whenever I look down on my left wrist and see "σωφροσύνη," it reminds me of that healthy state of mind that I strive to achieve on a daily basis. Getting a tattoo made me feel happier about my body because it helped me fall in love with a part of my exterior.
When I am asked what my tattoo means, I feel proud to explain it because it is such a big part of my life. I now have another tattoo on my back (a Picasso sketch), and that too makes me feel happy and comfortable with my body. After these two tattoos, I've fallen in love with decorating my body with meaningful phrases or art that resonate with me (sorry, Mom and Dad).
Tattoos are expensive and not always practical, but I am proud of mine. I am happy that the word "sophrosyne" now holds a special place in my heart, as well as on my body.