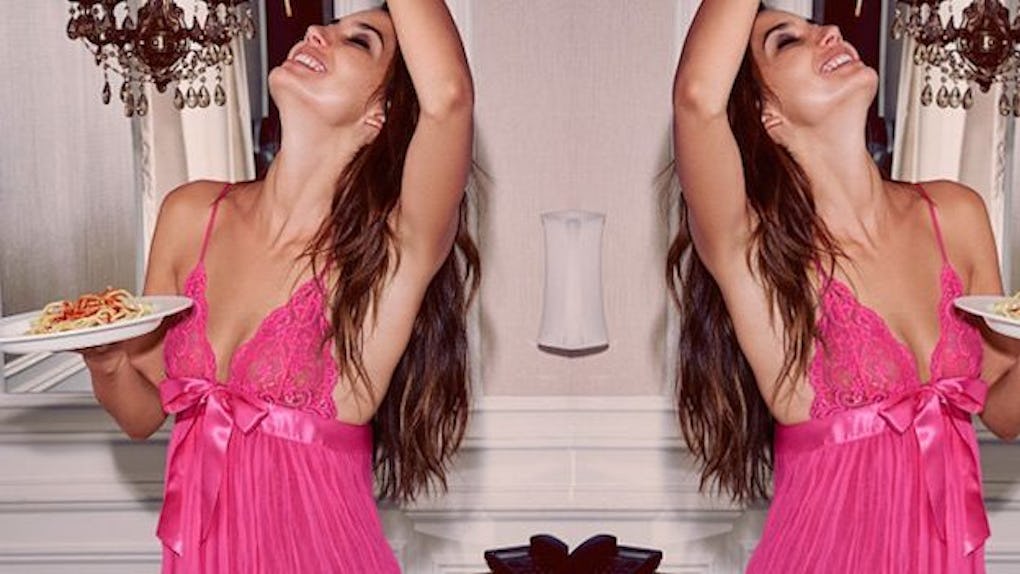 Victoria's Secret
Victoria's Secret Models Are Now Posing In Lingerie With Spaghetti (Photos)
It was just an ordinary Wednesday afternoon at work as I sifted through my totally disorganized email inbox.
I came across my daily mail from Victoria's Secret enticing me with online sales and specials. "October is for Angels," read the headline. It tempted me with new body bras and a free travel trio.
Ugh, fine Victoria. I'll check out your secrets. I clicked the page and was directed to the website.
I eventually made my way to the "lingerie" tab (I was um, looking for a friend) and noticed the Halloween role play section. Again I clicked because, IDK. Why the hell not? I'd look great in these. I mean... my friend would. Whatever.
I made my way down the page and took note of the various options.
No straps? Interesting.
No back? Sure.
Cheetah print? Let's try it.
Plate of spaghetti? WTF.
This lady in her little sexy number was just laughing with some spaghetti. Um, what?
The f*ck you holding that for? What kind of roleplay is this? What's going on?
Do you know that sauce stains? ARE YOU AWARE YOUR SHEETS ARE WHITE?
At least I'm not the only one who doesn't get it.
Bye.