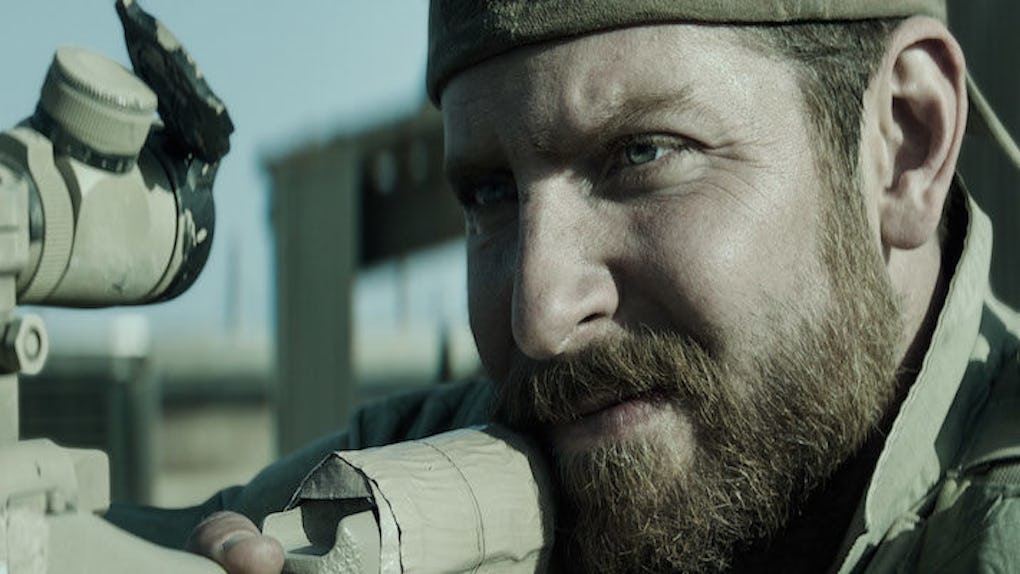 American sniper/Warner Bros. Pictures
How 'American Sniper' Dominated The Box Office Despite Its Oscar Snub
In many ways, it isn't surprising at all to hear "American Sniper" is officially the highest domestic grossing film of 2014.
Think of the formula behind it: There's an Oscar-winning director in Clint Eastwood, a superstar actor in Bradley Cooper and a fascinating narrative about the humanity of one of the deadliest soldiers to ever live.
Combine those three factors and the result is most likely going to be a total gross of $337,209,000 in 2014 alone.
According to Quartz, the film, which was released in November, grossed more at the box office than any other film in all of 2014.
Yet, more importantly, "American Sniper" was the highest grossing war film of all time; it even eclipsed "Saving Private Ryan" by more than 100 million dollars in sales.
"Saving Private Ryan" was nominated for eleven awards at the 71st Academy Awards and walked away with five, including a Best Director award for Steven Spielberg.
Now, while, of course, sales don't necessarily indicate Oscar success, it's odd to note "American Sniper" was nominated for six Oscars and walked away from the event with only one, for Best Sound Editing.
So, what's the deal? Why the Oscar snub? As Quartz also notes, "American Sniper" was the only film in the top 10 grossing films in 2014 that doesn't take place in a fantasy world or involve non-human characters.
When looking at all of these facts, it's a bit frustrating the Oscars did not give the movie more credit.
The film took on some of the most important subjects of our time, including 9/11, the Iraq War, the War on Terror and the return of soldiers facing PTSD.
All of these topics are relevant issues our generation will have to come to terms with in the near future.
In all honesty, it seems the fact that many of these issues are still present made it almost uncomfortable in a way.
In this light, it is understandable why the Academy chose not to acknowledge "American Sniper" at the Oscars.
Comparing it to "Saving Private Ryan," a film about a war that occurred generations ago, it's easy to see why The Academy would feel more comfortable showing it gratification.
But, when comparing the two films, "American Sniper" and "Saving Private Ryan," it seems "American Sniper" is almost harder to watch.
"Saving Private Ryan" revolves around a quest; it has a key narrative plot with strong characters.
The 1998 film is graphic and certainly doesn't glorify war, but it promotes theme,s such as heroism and companionship.
"American Sniper" doesn't promote these themes.
"American Sniper" is much more black and white than "Saving Private Ryan." It's about one man, Chris Kyle, seeking to fight the bad guys wherever they may be.
Other than that, "American Sniper" allows us to experience the mindset of modern soldiers who often see the world in black and white.
In many ways, Chris Kyle is almost a bad hero, one who doesn't care about how many bad guys he kills.
Throughout the film, we see multiple people congratulate or thank him for what he did, yet he is rendered uncomfortable by their gratitude.
Kyle isn't able to appreciate the thanks because he is focused, almost to a fault, on the amount of fellow soldiers killed under his watch.
While the Oscars undoubtedly snubbed this film, we can only hope studios get the message that audiences are still open to flocking to the theater to experience real-life, culturally significant narratives.
As more American soldiers return home from the recent armed conflicts in the Middle East, films such as "American Sniper" and "Lone Survivor" will continue to captivate audiences for decades to come.