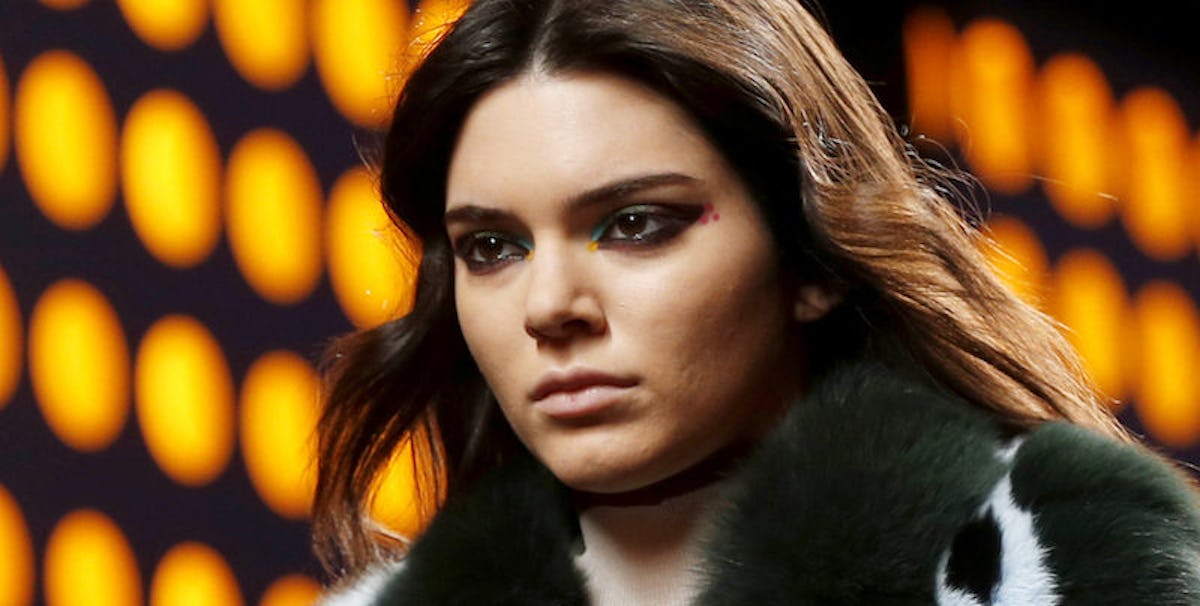 Kendall Jenner's Huge Snake Tattoo On Her Butt Is Seriously Badass
REX/Shutterstock
Kendall Jenner is rocking some serious ink on her V magazine cover photo.
Tattoos are the least Kardashian thing of all time.  This is a family who values the idea of perfection.
Granted, most of them have had major work done -- and I'm convinced Kim is at least 12 percent medical-grade plastic at this point, which is a LOT if you think about it -- but their skin remains flawless.
It remains looked after by a full team of skincare experts who are probably on retainer by Kris Jenner, but it still remains flawless.
That is until now.
Kendall Jenner, fashion icon and Victoria's Secret model, recently did a photo shoot for V magazine that involved her getting a little inked up.
In the photo, Kendall is rocking a badass snake tattoo up her butt.
RECOGNIZE THAT TATTOO FROM ANYWHERE?!?!
I'll give you a hint...
Yup, Kendall Jenner is announcing she is a loyal Tea Party member, and this magazine cover was her big coming out party.
JK, the only tea Kenny goes anywhere near is Fit Tea, and the only reason she does that is because she's contractually obligated to drink three cups a day while Khloé whispers the words "revenge body" over and over into her ear.
The photo is part of a series that V shot in which different models got (fake) tattoos on different parts of their bodies.
The other models featured in the spread are Carolyn Murphy, Amber Valletta, Joan Smalls, Lara Stone, Lily Aldridge and Ellen Rosa.
Truthfully, Kendall isn't the first Kardashian-Jenner to get some art nail-gunned onto her body.
This isn't even the first time Kendall has gone under the ink knife.
Kylie's body has the world's most random assortment of tiny tattoos.
Khloé also famously had a tattoo on her lower back with the word "Daddy" removed.
Bad ass.
Citations: Kendall Jenner Gets Inked on the New Cover of V Magazine (PEOPLE)