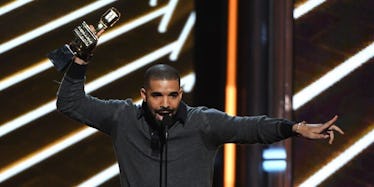 Twitter Is Roasting Drake For Copying Britney Spears' 2002 BBMAs Performance
Getty Images
Drake just stole the show at the 2017 Billboard Music Awards with an incredible performance, and fans are going insane.
The Views rapper performed his hit song "Gyalchester" inside the Fountains of Bellagio at the Bellagio Hotel in Las Vegas.
There were lights and fireworks, and the video came out gorgeous. Just take a look below -- the entire thing was straight fire... literally.
Many of his fans went crazy over the set, but there were a few people who went to Twitter to criticize the 30-year-old for copying Britney Spears' iconic performance at the 2002 Billboard Music Awards.
That's right, Drake better take a seat because it was Britney, b*tch, who first took the stage at the Bellagio Fountains.
In the video below, you can see her perform "I'm A Slave 4 U" right on the Las Vegas Strip. THE QUEEN MADE HER MARK 15 YEARS AGO.
Yup, Twitter wants every Drake fan to know he better get in line behind the OG. There is no one who can do this better than Britney, that's for sure.
It looks like people think Drake should have given Britney Spears a shout out during his acceptance speech at the BBMAs... you know, the one where he literally thanked EVERYONE in the audience.
(Oh, and flirted hardcore with Vanessa Hudgens.)
Even though Drake got called out for copying Britney Spears, he still had an incredible night.
The artist racked up the most awards of the evening, taking home the gold in the categories for Top Artist, Top Male Artist, Top Billboard 200 Artist, Top Hot 100 Artist, Top Song Sales Artist, Top Streaming Songs Artist, Top Rap Artist, Top Billboard 200 Album, Top Rap Album, Top Streaming Song, Top R&B Song and Top R&B Collaboration. YEAH, WHAT A MOUTHFUL.
He also broke a record and beat Adele as the winner of the most awards at the Billboard Music Awards... EVER.
Yeah, he clearly was the king of the night.
Congrats, Drake!